Trolls are "the happiest creatures the world had ever known". Or so we're told as DreamWorks' picture – named after the iconic 1990s toy dolls – opens to a delightful, scrapbook-inspired montage which sets the scene for the whole movie. Living in perfect harmony with one another, in a huge tree, there's only one thing that ails the trolls – the Bergens, a group of cantankerous, ugly ogre-type creatures who are inherently miserable and can only make themselves happy by eating... you guessed it, trolls.
Sick of their numbers rapidly diminishing when every year, an event in Bergen Town called Trollstice comes around, the trolls manage to scarper underground to escape their tormentors, leaving the Bergens perpetually 'hangry' and the Bergen Chef banished from the kingdom for not pleasing the town... and this is where Trolls story actually begins...
Our verdict
Over the last 12 months, animation studios such as Disney Pixar, Laika and Illumination have proved that cartoons need not exclusively be for young audiences. From the profound, emotional Inside Out and the somewhat scary Kubo And The Two Strings to the downright rude Sausage Party, creatives have utilised the medium to the fullest, offering up highly-stylised worlds that real life just wouldn't be able to comprehend with.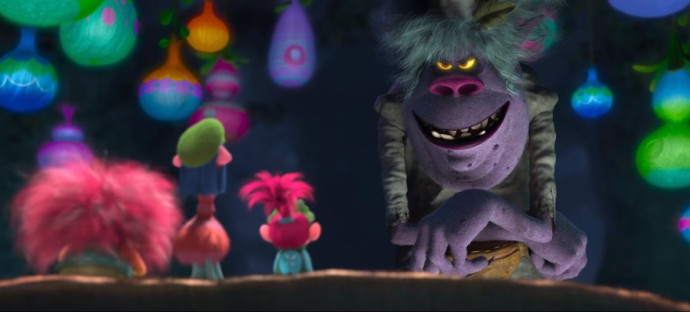 With Trolls, DreamWorks' takes a more traditional approach in terms of story however, aiming itself at an arguably less grown-up viewer. In the film, Justin Timberlake lends his voice to Branch, an ill-tempered survivalist troll who doesn't enjoy singing, dancing, hugging or anything a typical troll is supposed to do every 60 minutes (as indicated by each of their flower-shaped watches). Above all, he doesn't like soon-to-be queen Princess Poppy (Anna Kendrick, thanks to her unrelenting optimism and love of big, loud, crazy parties.
Essentially a buddy comedy (with one heck of a rescue mission thrown in), most of the film sits on Kendrick and Timberlake's (off-camera) shoulders. It's fortunate then that the pair's almost childlike voices seem perfect for their respective roles. Kendrick's perky tones and pitch-perfect singing suit Poppy down to the ground while Timberlake's naturally chirpy voice helps makes you like Branch despite his grumpy, cynical nature.
See, Branch likes to think of himself as a realist, and when Poppy wants to celebrate the trolls' 20th anniversary of being free from the Bergens, he warns her that putting on a bright and raucous soiree will likely lead the ravenous creatures straight to their safe haven. Writing him off as a party pooper, Poppy and her pals throw the shindig anyway and create such a raving, rainbow-coloured racket with their good times (and boy, do they look like good times) that Branch is proven right. When some of their friends are taken by the disgraced Chef (voiced by the fantastic Christine Baranski) hellbent on redeeming herself, the unlikely duo must team up and save them – embarking on a dangerous yet disco-filled journey to Bergen Town.
While its original songs may not be all that memorable – you certainly won't be humming Princess Poppy's Get Back Up Again for hours after you've seen the movie – Trolls' soundtrack undoubtedly makes the film as good as it is. Considering it was executive produced by Timberlake himself, that news may not be all that surprising. What is, however, is the film's brilliant incorporation of existing songs such as Junior Senior's Move Your Feet and Paul Simon's The Sound Of Silence and Diana Ross' I'm Coming Out – guaranteed to be stuck in your head for days afterwards.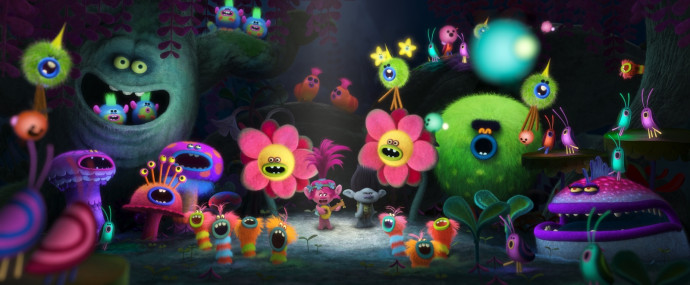 One standout scene even sees Bergen scullery maid-turned-Cinderella-type Bridget (Zooey Deschanel) deliver a rendition of Lionel Ritchie's Hello while psychedelic visuals fill the background. It's both hilarious and a little sad – she just wanted to be recognised by the prince... bless her. But from her 'pain' comes our enjoyment and if that's what's on offer, we'll sure take it.
Given that they're both about tiny happy beings who spend their days hiding out in forests, comparisons between Trolls and 2011's The Smurfs are inevitable but one thing that the former really excels in unlike the latter are the little protagonists' individual personalities. Unlike The Smurfs, who are generally much the same despite a few aesthetic differences, Trolls are a lot more unique. You also have Guy Diamond – a sparkly troll who can eject glitter from his behind, Cooper – a mellow, giraffe-shaped troll, Creek (Russell Brand) – a troll who promotes peace and other zen-like mantras, Satin and Chenille – twin trolls joined by the hair, and Suki (Gwen Stefani) - the colourful gang's resident DJ who uses insects as her equipment.
As each troll gets their chance to shine on screen, it makes for some interesting antics but its evident throughout that screenwriters Jonathan Aibel and Glenn Berger did not just include this diversity among the film's lovable, cotton-candy coloured heroes for merely superficial reasons. At the end of the day – and if we're honest, like most animations – Trolls is about acknowledging and accepting one's differences and realising that just because someone is different than you, doesn't mean they're your enemy or that you can't be like them if you really want to be.
While they seem evil, wanting to gobble Trolls up at any chance they get, the Bergens just want to be happy - and don't we all... Their methods are a little extreme, granted, but this seemingly simple film suddenly gets a little deeper when you start thinking about how far you'd go to be happy and what actually makes you it in the first place. With all that in mind, so what if DreamWorks' Trolls isn't the most inventive story of recent animations, its undoubtedly the most fun, most colourful and downright cutest film you'll see this year.