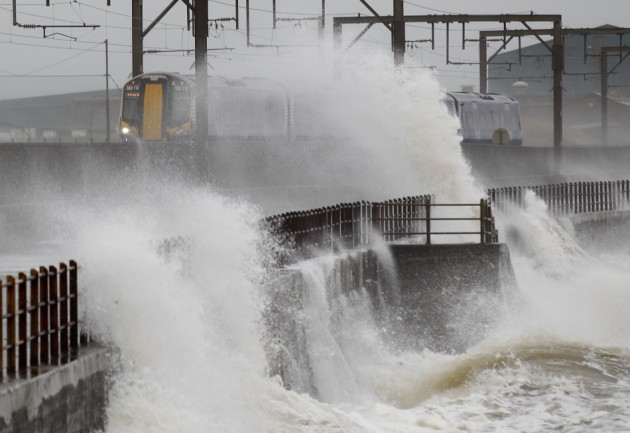 A van driver was crushed to death by a tree toppled in gale-force winds as wintry weather caused chaos across the country.
The man died when an oak tree came crashing down on to his van near Tunbridge Wells in Kent.
The storms also claimed a second victim when a tanker crerwman died in high seas in the English Channel off the Devon coast when his vessel was struck by a huge wave during force 9 winds.
An elderly woman in Sevenoaks was taken to hospital after a tree fell on her house.
Damage and disruption were repeated on a large scale across the country. Tens of thousands of homes have been without power in Scotland and Northern Ireland after power lines were affected by the storms and Dover closed its port because of the rough seas. Although it has reopened, ferry services continue to be disrupted, with SeaFrance services to Calais suspended.
Elsewhere in the country, Epsom Downs racecourse was evacuated after strong winds blew a grandstand roof off.
"There have been no injuries and a full investigation into the precise cause will follow," said a spokesperson.
Lorries were blown over by storm-force winds, one in Cumbria on the southbound M6 near Tebay, and another on the A66 in County Durham.
The QEII Dartford Crossing bridge between Kent and Essex was closed because high winds made it too dangerous to cross.
Glasgow Airport said passengers would experience "significant disruption" because of strong winds and advised them to check for delays and cancellations with their airlines.
Edinburgh Airport was assessing departures on an individual basis and advised passengers to contact their airlines.
Heathrow and Gatwick airports reported delays and cancellations.
Train services across the UK were also disrupted. Some services on the East Coast Main Line started and finished at Newcastle because rail travel in Scotland was too difficult. ScotRail advised its customers not to travel.
There was also disruption on the C2C line in southeast England after a tree fell on the tracks and wind blew a cable loose.
Localised flood warnings from the Met Office are in place across the country.