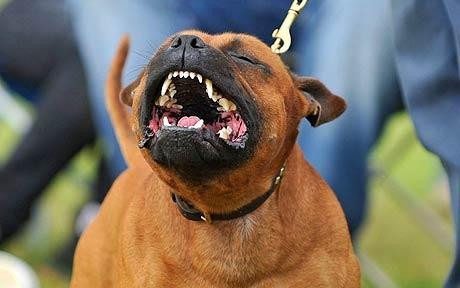 A ten-year-old boy has been scarred for life following being mauled by a Staffordshire bull terrier that had been force fed Stella Artois.
The alcohol was poured down the canine's neck by the owner's uncle before the staf mauled Joseph Pickering.
The dog escaped being put down after animal psychologist, David Gilman declared the beer was to blame and not the dog.
He said: "If a dog carried out unprovoked attack on a child I'd say it should be destroyed, but giving a beer to a dog would have effects on its brain."
James Holmes, 24 who owns the mutt escaped prosecution as the attack was on private property but a civil hearing was engaged by the police under the Dangerous Dogs Act.
The dog, Diesel, lived next door to Joseph and bit his head after Paul Ashworth gave the dog Stella because it was 'heavily panting'.
Pickering required a skin graft on his skull, his mother Carol-Ann Dickinson said: "Joe's got to live with his scar. He still has nightmares. It's disgusting that the dog won't be put down."