Dubai's skyline could be abuzz with driverless flying cars in just a few months as officials revealed plans to launch a passenger-carrying drone service as early as this summer. At the World Government Summit in Dubai, the city's Roads and Transportation Agency (RTA) head Mattar Al Tayer announced that the Chinese-made EHang 184 – "an egg-shaped craft with four legs sticking out, each with two small propellers" – will begin regular operations in the futuristic city this July, but did not mention any specific details.
According to the Associated Press, the drone was exhibited at the summit and will have room for one passenger weighing up to 100 kg as well as a small suitcase.
After a passenger gets into the drone and buckles up, he or she can select a destination on a touchscreen pad in front of the seat that displays a map of all the destinations. Once selected, the drone will take a preset route to transport you to your intended destination.
Remotely monitored by a ground-based control room, the driverless drone has a battery that allows for a maximum 30 minutes of flight time and can fly about 50 km on a single charge with a top cruising speed of 160 kph. The standard speed in Dubai will typically be set at 100 kph, AP reports.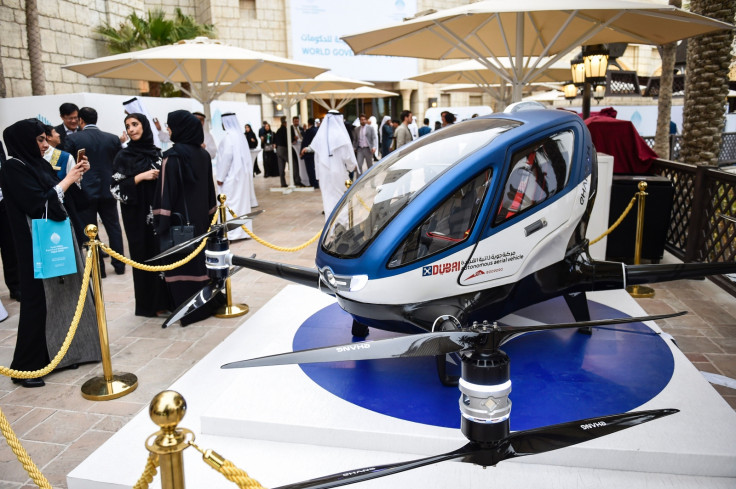 "The autonomous aerial vehicle (AAV) exhibited at the summit is not just a model," Al Tayer said, The National reports. "It is a real version that we have already experimented the vehicle in a flight in Dubai sky. The RTA is making every effort to start the operation of the AAV in July 2017."
Weighing about 250kg, the drone spans 3.9 metres in length and 4 metres in width. With a battery charging time between 1-2 hours, the self-driving vehicle can fly at a maximum cruising height of 3,000 ft.
"The AAV is designed to operate under all climatic conditions unless there is a thunderstorm. The vehicle is fitted with highly accurate sensors with a very low-error threshold and can resist vibrations and extreme temperatures," Al Tayer said. "We have addressed the highest levels of security in the designing and manufacturing of the EHang 184."
The vehicle is fitted with eight propellers. Al Tayer said that in case the first one fails, the seven others will be able to complete the flight with a smooth landing "while mitigating the impact of the fault sustained by the first propeller". He noted that the drone, controlled via 4G mobile internet, has been examined by the Dubai Civil Aviation Authority.
In April last year, Dubai's ruler Sheikh Mohammed bin Rashid Al Maktoum said he aims to have 25% of all passenger journeys in the city to be done by various driverless vehicles by 2030.
"The step would also enhance the integration between public transport modes and people happiness through the provision of smooth, quick and innovative mobility," Al Tayer said.
The EHang 184 drone was first unveiled in Las Vegas at CES 2016.
"You know how it feels to sit in a Ferrari?" EHang co-founder George Yan told the Daily Mail last year. "This is 10 times better."
"Everything is calculated in the backend to pick the most optimal route for you, so there is no collision with the other drones flying," he continued. "On the drone itself we have built pretty sophisticated backup services so if another system fails then another will take over."
"I think in all of us there is that little kid that says I want to fly. I don't want to get a pilot license after five or 10 hours of flying, I want to do it right away. We're making that dream happen."