Dubai has overcome London's Heathrow as the world's busiest airport in terms of international passenger traffic, according to figures from the Airports Council International.
Dubai International airport recorded passenger traffic of 68.9 million as of 22 December, compared to 67.8 million at Heathrow.
The Gulf city's high traffic is despite a refurbishment scheme at the airport, which caused a decline in the number of flights to and from it. Due to the refurbishment, the airport had been operating a single runway for 80 days.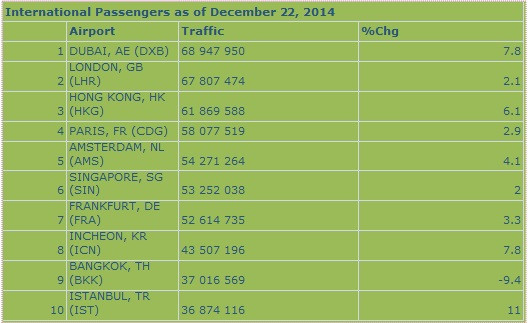 "Given the traffic achieved in the first 11 months, together with some of the busiest days on record in December, we are confident of ending the year above the 70 million mark and confirming our position as the world's busiest international airport," said Paul Griffiths, CEO of Dubai Airports.
"Looking forward to 2015, the prospects remain exceedingly bright, and we expect to maintain the growth achieved this year in the next 12 months. Therefore Dubai Airports continues to invest in world-class facilities to meet this demand, including the opening of the new Concourse D in the first half of next year."
The emirate is also working to expand its second airport, Al Maktoum, given the rising passenger traffic. The airport will have the capacity to handle 120 million passengers when the expansion is completed in 2022.