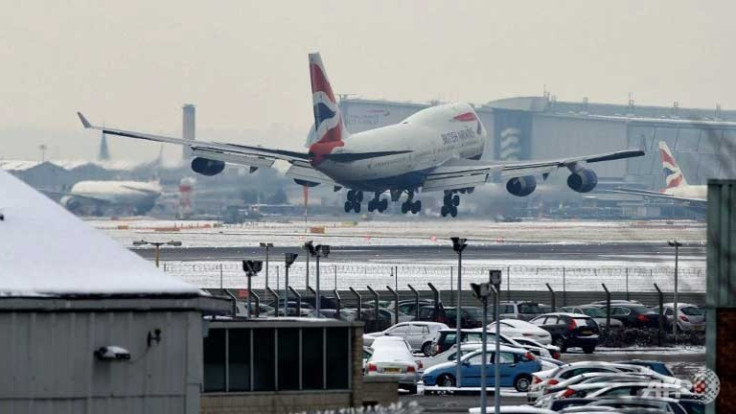 Passengers have been warned of ongoing disruption to their journeys as flights continue to be cancelled following a computer failure at a major traffic control centre earlier today. (12 December)
Flights were restricted across London airspace following a 35 minute technical fault at National Air Traffic Service's £700 million centre in Swanwick, Hampshire.
The glitch has caused extensive travel chaos at five London airports, with further cancellations and delays expected to flights today and tomorrow. (13 December)
66 flights were cancelled at Heathrow leaving 100,000 passengers facing long delays. All departures were delayed at Gatwick and all flights were suspended at Stanstead, while travellers at London City airport faced three hour delays.
Aberdeen and Edinburgh were also affected, while Birmingham, Manchester, Luton and Bristol airports reported delays. East Midlands and Birmingham airports were virtually unaffected.
Flights on Saturday are expected to be affected by the knock-on effect because aircraft and crew will not be in the correct positions.
A spokesman said: "The earlier problem will cause delays and cancellations to flights for the rest of the day and is likely to have a knock-on effect on some services tomorrow because aircraft and crew will now be out of position.
"Passengers due to depart today and tomorrow should check the status of their flight with their airline before travelling to Heathrow. We are very sorry for the disruption to passengers' journeys. We have extra staff on duty to help passengers."
British Airways said: "We are working hard to look after our customers who have been affected by the air traffic control failure experienced by all airlines at Heathrow, Gatwick and London City airports.
"We anticipate disruption to both departing and arriving aircraft but will do all we can to minimise any impact."
Unbelievable view of #Heathrow Airport on a Friday afternoon. No aircraft departing. London airspace closed pic.twitter.com/wj2OFtGbgi

— Jonny Hallam (@Jonny_Hallam) December 12, 2014
EasyJet cancelled 10 flights to and from Gatwick and confirmed they would cancel a further two on Saturday.
Speaking to Sky News, NATS managing director of operations Martin Rolfe defended his organisation's handling of the chaos.
"It was a technical failure at our Swanwick centre which handles 6,500 flights a day," he said. "We went through our backup systems and restored things relatively quickly but not without delays to passengers, which we hugely regret. These things are relatively rare. We are a very busy island for air traffic control, so we're always going to be operating near capacity. What we've seen today is a very quick response. We didn't close any airports, we didn't close any airspace. We reduced the flow to make sure everything could be handled safely."
Transport Secretary Patrick McLoughlin said the disruption was unacceptable and he has asked NATS for a full explanation of the incident.
The centre at Swanwick has been subject to a number of computer glitches since NATS moved there from its old headquarters in West Drayton in west London.
Travel organisation Abta have advised passengers due to fly on Saturday to seek advice from airlines or their travel organiser about potential changes to their schedules.