Dublin boxing shooting: Police man armed checkpoints following gun attack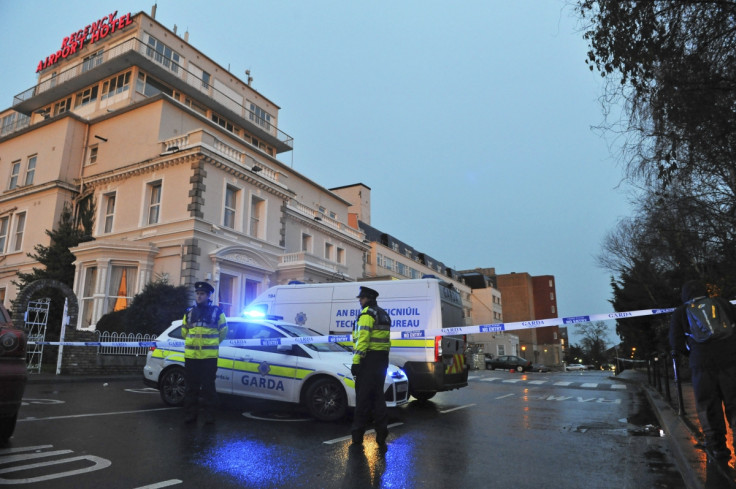 Armed police officers are manning checkpoints in the Irish capital Dublin overnight in a bid to prevent further bloodshed after a reputed gangster was gunned down at a boxing weigh-in. They will reportedly remain in place for at least two days.
Ireland's Garda believe at least six people were involved in the 5 December attack on the Regency Hotel which left David Byrne dead. The 33-year-old from the Crumlin area in the south of Dublin reportedly worked for an Irish gangster who is based in Spain's Costa del Sol.
Two others were wounded in the attack and Irish state broadcaster RTE is reporting that one of them was shot in the chest, while the other has since checked himself out of hospital. Armed with "automatic weapons" police said, "three of the attackers are described as wearing police-style uniforms similar to a SWAT team uniform, including metal helmets".
They added that "two others were carrying handguns".
"One was a man disguised as a woman and wearing an auburn wig and the other was stocky and wearing a beige cap," they said, while a "sixth man remained in the driver's seat of the silver ford transit van," which was found burnt out a short time after the shooting.
Investigators have indicated they will be making international inquiries as part of their investigation through Interpol, Europol, and their liaison officers in the UK and Spain.
Byrne's suspected killer is a hitman who is loyal to alleged career criminal Gerry Hutch, known as "the Monk", according to local media reports.
Hutch is suspected of being behind the murder of rival criminal, Eamon "the Don" Dunne, who was shot dead in a Dublin pub almost six years ago. However, Hutch has denies being involved in any criminal criminal activity, apart from tax evasion, in recent years.
Byrne was himself arrested in connection with the attempted murder of a 20-year-old man in 2008. A witness said they had seen his body slumped over the foyer reception desk after he had been shot during the weigh-in for a boxing bout called the "Clash of Clans".
On the scales as the shots were fired was local favourite Jamie Kavanagh, whose bout with Antonio Joao Bento for the WBO European Lightweight Title was later cancelled.
© Copyright IBTimes 2023. All rights reserved.