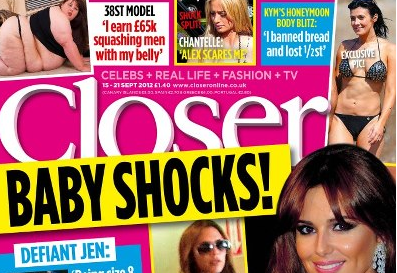 The English version of Closer magazine moved to distance itself from its French counterpart, which has published topless images of Kate Middleton sunning herself by a pool.
The pictures were taken with a long-lens camera while the Duke and Duchess of Cambridge were holidaying at a luxury chateau in southern France.
Reports say British titles were offered the pictures but every one turned them down.
French Closer Editor Laurence Pieau Defends Topless Kate Middleton Photos as 'Not Shocking at All'
In a statement, Closer UK pointed out that the two magazines, while operating under the same banner, operate as independent entities - and the French edition is in fact published by a company belonging to former Italian Prime Minister Silvio Berlusconi.
The statement read: "Closer magazine UK is published by Bauer Consumer Media. The French edition meanwhile is published under a licence by a totally different company, an Italian business called Mondadori.
"Closer magazine UK would like to make it clear that the two publications make entirely independent editorial decisions. In this respect the comments made by the editor of the French edition which have been reported in the media today do not reflect the opinions of Closer magazine UK."
The statement also insisted that the UK version of Closer "was not offer any pictures of this nature" and had "no intention" of publishing them in any case.
It concluded: "Closer magazine UK takes its obligations under the Press Complaints Commission Code extremely seriously and would never publish topless images of a member of the Royal family on its cover or otherwise."
The statement, which was posted on Closer's Facebook wall, drew a rapid flurry of comments from users.
One user, Jane Carr, posted: "Suggest you are the ones who should be telling Closer France what damage this has done to your title."
The Duchess of Cambridge is currently with her husband Prince William on a tour of the Far East.
A Buckingham Palace spokesman has told IB Times that the tour shall continue, despite the unfolding photo scandal triggered by the pictures.