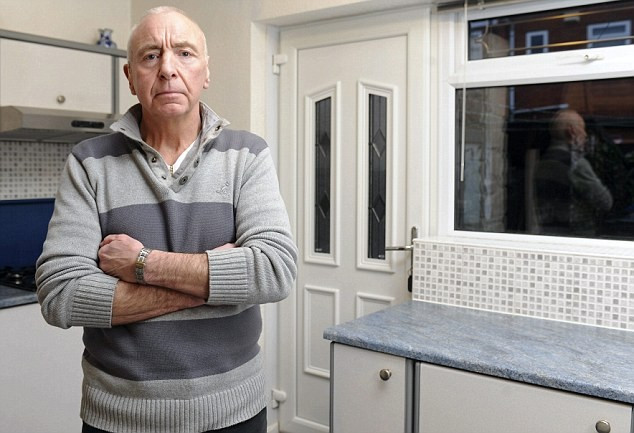 A 59-year-old man engaged in a "fencing match" with burglars armed with a 12-inch machete before fatally stabbing one at his home in Salford.
Peter Flanagan, 59 confronted the four men after he was woken in the middle of the night by breaking glass and a loud thud. Flanagan was arrested on suspicion of murder but was released after the Crown Prosecution Service claimed he had acted reasonably to defend himself.
CCTV showed the men fleeing from his home after John Bennell was stabbed. Bennell collapsed after 300 yards and died from his injuries.
Christopher Troy, Martin Jamieson and Wesley Gibbons were each sentenced to between six and eight years for their part in the burglary.
Flanagan, who said he felt lucky to be alive, said that the ordeal still haunted him. "I see John Bennell's face when I go to bed," he said.
"A peaceful sleep is non-existent. The incident has also had a profound effect on my family."
Prime Minister David Cameron has backed the CPS in the past when it said that homeowners should not be prosecuted for defending themselves against intruders if they used "reasonable force".
Flanagan, a grandfather, was wearing just his underwear when he went to investigate the noises in his home in the middle of the night. He was greeted at the bottom of the stairs by a masked man wielding a machete who told him: "Sit down and stay there."
Prosecuting, Nicoletta Amatino described the scene to a jury at Manchester's Minshull Street crown court.
"Mr Flanagan said he was terrified and in fear for his life so he picked up a carving knife in the kitchen," she said.
He engaged in a "duel" with one robber, Gibbons, and the machete flew into the air. It was grabbed by Bennell who Flanagan then "jabbed" with his carving knife, said Amatino.
In sentencing, Judge Leslie Hull said the crime was "serious and entirely unforgivable".
"Part of the menace of this case is that it could have been Mr Flanagan – innocent, asleep, at home in his bed – rather than Bennell," he said.
"Mr Flanagan has described his torment. He says this would live with him for the rest of his life and he has been driven to seek counselling sessions.
"So it is clear that there has been the most profound and significant impact upon Mr Flanagan."
Following the sentencing, Detective Superintendent Dominic Scally said he hoped that the convictions would help Flanagan "rebuild" his life.
"No one should have to go through what he did. The events of that night still haunt him to this day and always will," he said.