Since taking office on 30 June, Rodrigo Duterte's relationship with the US has been marked by a war of words and anger over Washington's concerns about the rising death toll in his deadly war on drugs. But the president of the Philippines was in high spirits on Wednesday (9 November) following Donald Trump's unprecedented US election victory.
Dubbed the "Trump of the East" during the Philippine election campaign, Duterte said he is looking forward to working with the incoming president and even drew similarities between the pair. "I would like to congratulate Mr Donald Trump. Long live," Duterte said at a gathering of Filipinos in Kuala Lumpur, Malaysia.
"We are both making curses. Even with trivial matters we curse. I was supposed to stop because Trump is there. I don't want to quarrel anymore, because Trump has won," he added.
Duterte has consistently lashed out at President Barack Obama, branding him a "son of a bitch" and telling him to "go to hell", and accusing the US of treating the Philippines like "dogs". Trump has said that his comments show a lack of respect for a decades-old partner.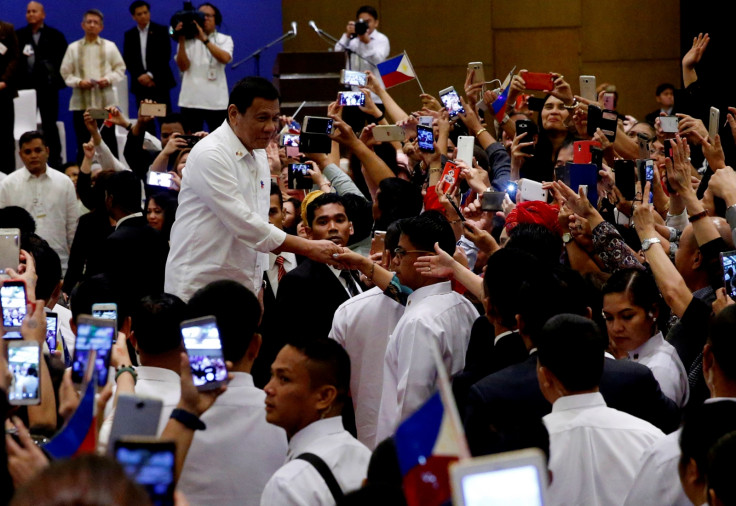 Wishing Trump success in his new role, the presidential palace said in a statement: "President Duterte wishes President-elect Trump success in the next four years as Chief Executive and commander-in-chief of the US military and looks forward to working with the incoming administration for enhanced Philippines-US relations anchored on mutual respect, mutual benefit, and shared commitment to democratic ideals and the rule of law."
According to a Reuters report, Duterte vented his frustration at Washington, claiming that it had threatened to sever aid to the Philippines. "They talk as if we are still the colonies," he was quoted as saying. "You do not give us the aid, s**t, to hell with you," he said, recalling remarks he had made towards Obama.