Tough-talking Philippine President Rodrigo Duterte is said to have broken the pledge he took just over 10 days ago, and let out a torrent of invective against the US for not supporting his crackdown on drugs and crimes in the country.
He had earlier vowed not to swear at anyone claiming that God had threatened to kill him if he did not stop.
"Now who helped? China," Reuters cited him as saying. "America, what did they say? 'Duterte, stop the extrajudicial killings. We hold you responsible'."
"I said: 'You can go to hell. You're all s**t. You look at us Filipinos like dogs... You're all really sons of b*****s because you violated our dignity.'"
He said on Friday (4 November) that his anti-drug campaign has helped cut back the supply of drugs reducing the narcotics flow in the Philippine. But he fears there are signs the alleged criminals may have now turned to kidnapping, which the firebrand president said he would tackle.
"There is a very low supply of drugs now. But, there is a shift to kidnapping by these idiots," he said during a televised speech. "This is a new game, so be careful. Give me time to talk to God."
In an apparent tilt towards China, Duterte declared he would end Manila's age-old ties with Washington. During his China visit in October, Duterte said China has agreed to provide financial aid of around £12m ($15m) to help him carry out his ambitious bloody war on illegal drugs. He compared China's gesture and criticised the US for condemning his actions.
"Mr Obama, what went wrong? Get your dictionary. Find out the right meaning of dignity," Duterte added.
The firebrand president, who is dubbed as "the punisher", also reportedly slammed the Obama administration for threatening to stop the planned sale of 26,000 assault rifles to the Philippines citing concerns over the human rights situation in the country.
"If you think it's high time for you guys to withdraw your assistance, go ahead. We will not beg for it," online news portal the Inquirer quoted Duterte as saying.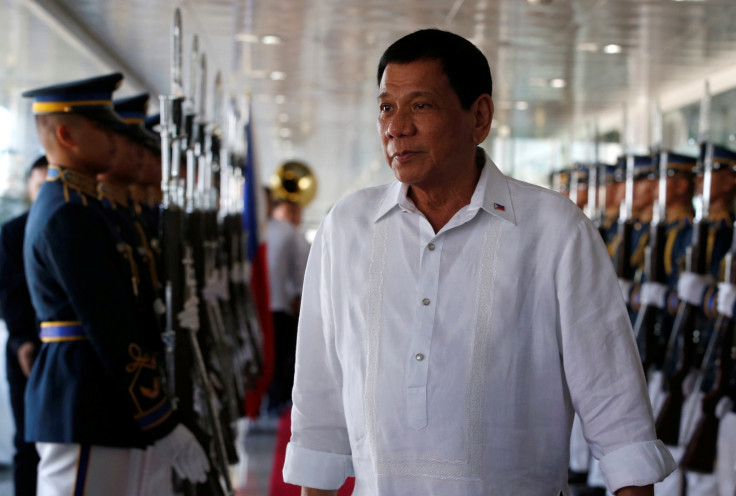 Duterte's recent attacks on the US, especially after his China visit, is said to have confused officials in Pentagon over the relationship status the two countries share. However, Filipinos have reportedly said they trust their ties with the US far more than their ties with China, according to a recent poll.
"If you think America will be good for you, if you want to be a (US) territory ... if it is to your personal interest, go ahead and join the demonstration," he said, while inviting his people to protest if they disagreed with him on Washington.
"And maybe you can convince me to leave the presidency. But at least I leave without being treated like a pig by the Americans," Duterte added.