Philippines President Rodrigo Duterte has set off yet another controversy by ordering his troops to bomb extremist kidnappers even though there are hostages among them. Going further, he blamed the hostages for being kidnapped by the militants.
Duterte said the deaths of civilians and captives should be considered "collateral damage" when the army bombs the positions of the extremists. He said: "If there are kidnappers and they're trying to escape, bomb them all." And then went on: "They say 'hostages.' Sorry, collateral damage."
The tough-talking president was speaking at a business gathering in Davao city, his hometown, where he served as a mayor for a long time before becoming the president of the south-east Asian nation.
According to reports, he then quipped with a chuckle: "Don't get kidnapped, honestly."
"You don't have an advantage because of your foolishness, I will really blast you away."
His remarks came in response to Abu Sayyaf, the militant group active in the southern parts of the country known for its extortion techniques through routine kidnappings especially of foreigners. The Islamic State-linked group on Saturday, 14 January, released two hostages, a South Korean and a Filipino, after they were held for three months.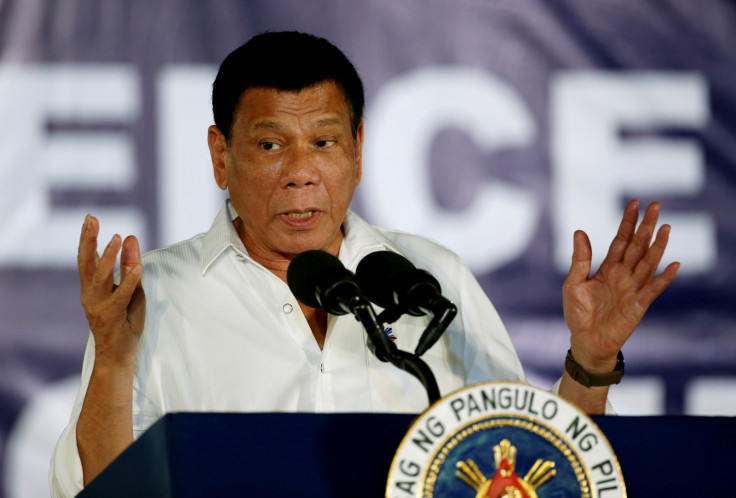 Referring to the ongoing drug war in the Philippines, Duterte also warned he would not hesitate to impose marital law on the Philippines if he deemed it necessary.
"I don't care about the Supreme Court. No one can stop me," he said. "The right to preserve one's life and my nation ... transcends everything else, even the limitations."
"If I have to declare martial law, I will declare it, not because of invasion, insurrection, I will declare martial law to preserve my nation, period."