Abu Sayyaf militants in the Philippines who are allied with Islamic State terror group have reportedly released a South Korean and a Filipino after holding them under captivity for more than three months on Saturday (14 January).
Reports suggest that the South Korean, Park Chulhong, was the captain of the country's registered carrier DongBang Giant 2, a cargo ship, while Filipino Glenn Alindajao was the Korean's crew member.
They were held captive on a southern island and were taken to the house of the island's governor upon their release by the Abu Sayyaf group, said Major Filemon Tan, an army spokesman.
He told reporters that police sought help from members of a Muslim rebel faction who lent a hand to secure the release of the two hostages.
"They were freed this morning with the help of rebels belonging to the Moro National Liberation Front," Reuters cited Tan as saying.
They were flown out of the island by Jesus Dureza, a presidential adviser on peace efforts.
The cargo vessel was reportedly sailing to Australia from South Korea when the duo was abducted by 10 Abu Sayyaf militants in October.
Initial media reports suggested that the Philippine government had to pay ransom to secure safe release of the men. However, Dureza rubbished those claims.
"You know the policy of the government, we don't pay ransom. But, if there was some form of payment made, the government did not play any role in it," he told reporters.
The rebel groups from minority Muslim religion are thought to have signed a peace deal with the government in 1996 with a promise to assist President Rodrigo Duterte in getting the hostages freed. They also vowed to defeat the small but violent Abu Sayyaf militants, Reuters reported.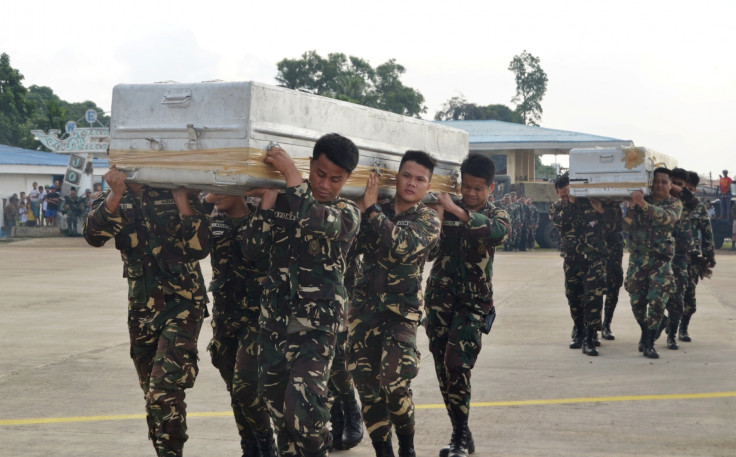 The militants are known for abducting and beheading tourists or crew members on the southern Jolo islands, which is their stronghold in the Christian-majority country. They have also carried out small bombings and extortion.
Nearly two dozen captives are reportedly still held by the militants on Jolo islands, despite the Philippine government deploying more than 10,000 troops in the region to eradicate the Islamic insurgency.
The hostages include people from various parts of the world, including Germany, Japan, Indonesia, Denmark, Malaysia and Vietnam.
The sea route between Malaysia and the Philippine has been described as dangerous waters for merchant shipping due to increase in kidnappings, the International Maritime Bureau said this week.
Firebrand Duterte had ordered his soldiers to eliminate Islamist militants from the region, giving them a six-month deadline. The southern part of the nation has been witnessing a long-festering insurgency by the growing influence of IS militants.