The controversy surrounding Senator Leila de Lima, who is investigating alleged extrajudicial killings in Philippines President Rodrigo Duterte's aggressive drug war, has deepened. A couple of days after the president branded her "an immoral woman" and a "robber" for using drug money to fund her election campaign, senatorial candidate Sandra Cam has alleged that de Lima's driver and alleged lover, Ronnie Palisoc Dayan, collected about 5m Philippine peso (£82,090,$107,668) every week from drug criminals in the country.
Without naming her sources, Cam alleged the driver frequently visited the New Bilibid prisons in Muntinlupa City in the Philippine National Capital Region to collect drug money from high-profile inmates.
Cam, who backed Duterte in the May elections, said the high-profile drug lords from whom Dayan collected money included gang leader Jaybee Sebastian and Peter Co, who was named by Duterte among the biggest drug criminals in the country. Cam made the revelations on Radyo Inquirer 990AM, but declined to divulge any more details about the alleged transactions between the drug lords and Dayan, Inquirer.net reported.
Earlier on Thursday (18 August), Duterte challenged de Lima to dispute his allegations, saying that she "can take all the time in the world" to prove her innocence. The president said he had witnesses who would testify against the senator, including her "driver lover". The president also slammed her for making baseless accusations against police personnel, who are "getting killed in the course of anti-drug operations".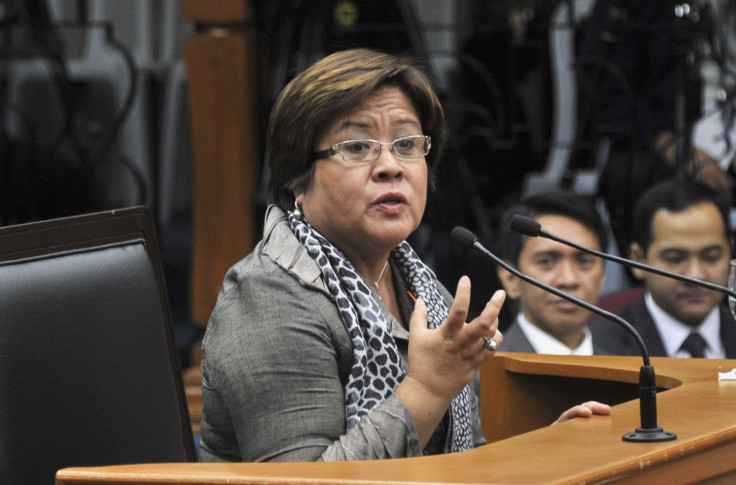 Addressing media persons, Duterte said: "I won't talk without any evidence, I'm not like her." He added that the reporters can "go to the Department of Justice (DOJ) and the Commission on Human Rights (CHR)" to find out the truth.
"You want to know the truth? If I was lying, you can change me," Duterte said, adding: "She [de Lima] has scandal at the CHR, scandal at DOJ and she's talking about family."
On Wednesday (17 August), at a public event of the Philippine National Police, Duterte attacked the senator without naming her directly. "In fairness, I would never say here that the driver gave the money to her. But by the looks of her she has it," the president said at the event.
"Here is an immoral woman fronting, the wife of the driver was concerned. Here is a woman who funded the house of her lover," Duterte was quoted as saying by CNN.
In response to the president's comments, de Lima said in a statement: "No one has ever been attacked in such a manner by no less than the highest official of the land, until now."
"How does one defend oneself, when the attacker is immune from suit, and has all the backing of executive power to support him in his personal attack?" De Lima said.