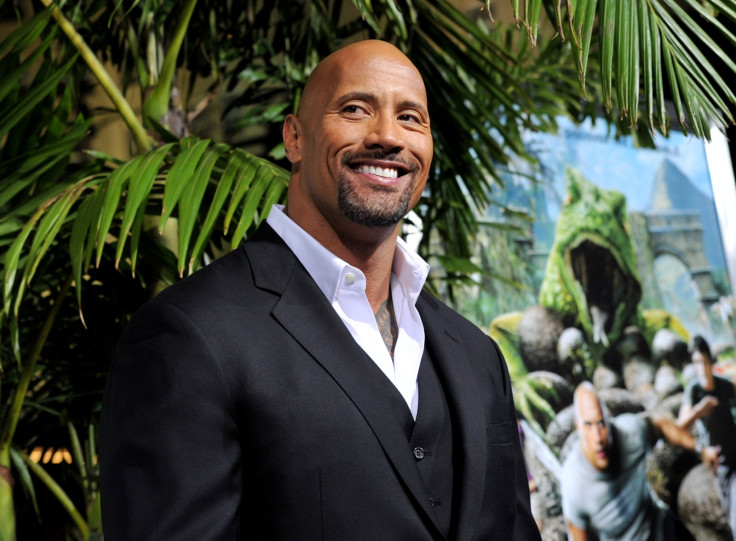 Dwayne Johnson has shared the first look of his next adventure thriller Jumanji 2. The Rock is all set to enter the jungle-themed board game adventure with his fellow cast Kevin Hart, Karen Gillan and Jack Black.
While all the men are fully clothed, Gillan is seen scantily clad in a jungle-themed outfit. Anticipating reactions to the clothing of the actress, the former wrestler explained: "Her jungle wardrobe will make sense when you know the plot. Trust me." The actress will play the character of Ruby Roundhouse in the movie.
Directed by Jake Kasdan, the plot of the movie is still a mystery but based on Johnson's previous remark, fans are assuming that the second movie will be the continuation of the board game. "For the record, we are NOT making a reboot, but rather a continuation of the awesome Jumanji story" he claimed back in August.
The remake of the 1995 fantasy-adventure film, which has the late Robin Williams as the lead, is currently filming in Honolulu. Hart will play Moose Finbar, Black will be Professor Shelly Oberon and The Rock is Dr Smolder Bravestone, probably the main character of the notorious game that transports people to dangerously wild situations, which includes animal stampedes and flash floods, all inside the player's living room.
The 44-year-old actor previously hinted at continuing the legacy by introducing "a whole new generation to the amazing world of Jumanji".
In the previous movie, two home alone children mistakenly open a mysterious and magical board game and unintentionally became a part of it. As they are forced to play on, the game unleashes a man (who has been trapped inside it for years due to a wrong move) and numerous wild creatures are let loose on the streets.
As the movie ended, Williams's character Alan throws the game into the river. It remains to be seen, who picked it up and how Johnson will be related to the magical game that will transport him and the other lead characters back into the deep jungle.
Jumanji is scheduled to premiere on 28 July 2017.