Suits season 6 episode 11 will not air on 21 September as the show has gone on a long hiatus and will return with new episodes only in January, 2017. The summer finale of Suits ended with Jessica Pearson (Gina Torres) quitting Pearson Specter Litt and moving to Chicago after defending death-row inmate Leonard Bailey.
Torres spoke to Entertainment Weekly about leaving the USA Network legal drama in the midseason finale. She said, "This has been something that Aaron [Korsh] and I have kind of been talking about and banting about for awhile. It's absolutely a mutual thing. Well, he wasn't that happy about it, 'cause we all love Jessica, but he's been awesome, as has been USA, about letting me come home for awhile and tend to my life."
Torres said she wanted to keep Jessica's leaving "open ended". She explained, "So, it was really about what's the best way to do this for the show. Certainly, it took a lot of different forms, but ultimately, I think we needed to keep it as open ended as possible because we love Jessica and we can't stand the thought of never seeing her again. So, I think when viewers actually see this, they'll feel sad — I hope — and maybe a little bit untethered, as will Harvey, but hopeful."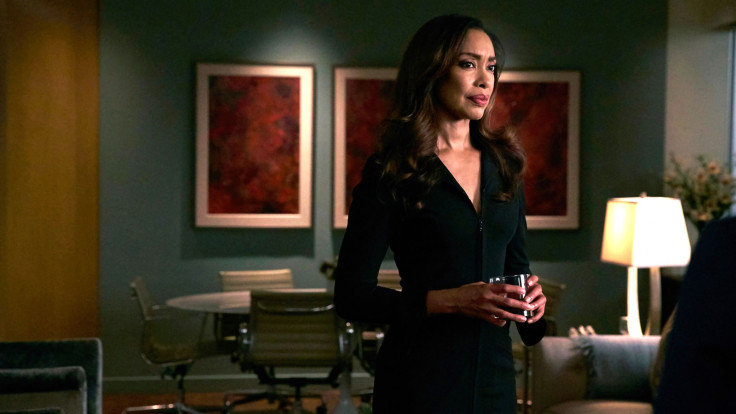 The 47-year-old actress also spoke about filming her final scene for Suits season 6. She said, "It was teary. Gosh, we shot [the scene] with Gabriel [Macht], Sarah [Rafferty], and Rick [Hoffman] where I say, "I gotta go," and that was my last scene I shot with them. Then, my next scene was going away with D.B. Woodside, our coming-back-together scene. So, I got a great kiss-off, so that was nice. I really spent that entire last week just hugging everybody a lot. I didn't want to leave any crew member behind — everyone that's been so incredible to me all these seasons."
USA Network has released a promo for episode 11, teasing an uncertain future ahead for PSL. The promo says, "As one chapter ends, another begins," and shows fleeting images of Louis Litt proposing to his girlfriend, Mike Ross and Rachel kissing, and it ends with Harvey and Donna holding hands and looking forward. The promo also confirms that Suits season 6 will return with new episodes in winter 2017 on USA Network.