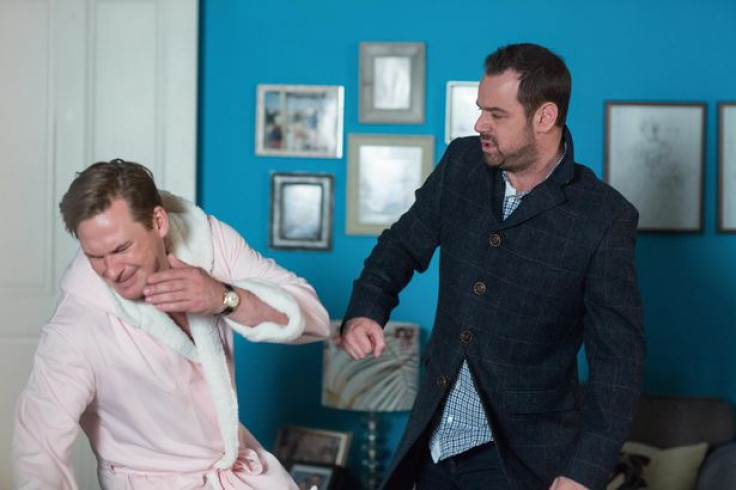 Danny Dyer will be back with a bang on EastEnders tonight (19 May) with his much anticipated return as Mick Carter.
The Queen Vic landlord will be back to his fire-cracking ways, proving that Carter has not lost his mojo despite his brief hiatus from Albert Square – due to Dyer's exhaustion from drinking and partying.
Mick is not impressed to see new character Woody – played by Lee Ryan – is in his house wearing a skimpy pink dressing gown. The fiery encounter escalates rather quickly and Mick ends up punching the pub manager in the face. Ouch.
The violence is witnessed by a bewildered looking Whitney, who stands in the background also in her pyjamas. But in the newly released pictures, Dyer looks utterly furious – so Woody must have rubbed him up the wrong way.
Viewers will soon find out what Dyer is so angry about – but after EastEnders' bosses released the dramatic teaser last week which hinted that a pregnancy, death and relationship drama is to come on the soap – there appears to be a lot of disturbance in Walford.
In the clip, Dyer is seen smashing a glass against a wall as he argues with Shirley Carter – played by Linda Henry. The ruckus might be over the small fact that she's decided to sell their pub while he's been away.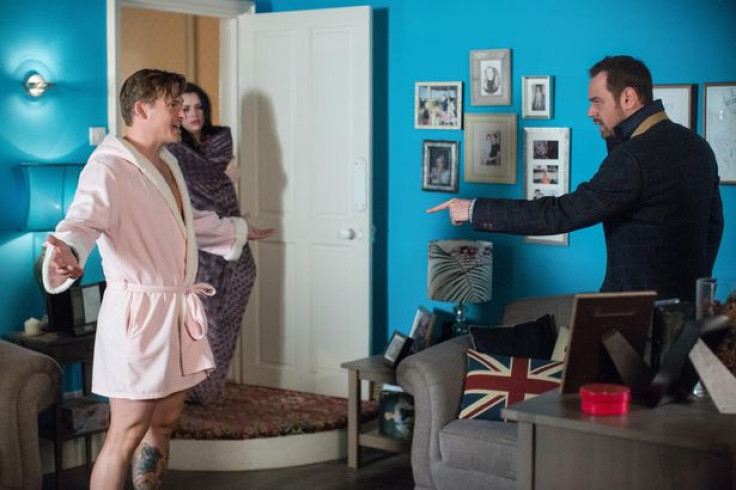 Proving he hasn't changed much since his break from Albert Square, Mick reignites his affair with Whitney Carter – played by Shona McGarty. He tells her: "I missed you" as Whitney deals with her failing marriage.
On his anticipated return, one insider told the Daily Star: "It's fair to say there's going to be a lot of shouting and maybe even some fisticuffs." Looks like someone's got their mojo back...
Dyer – who is said to be earning £400,000 annually for starring on the soap – has thrown himself back into his gruelling working schedule after enjoying time away in South Africa with his family, including wife Jo Mas and their children Dani, Sunnie and Arty.
EastEnders continues tonight at 8pm on BBC1.