An earthquake with a 7.3 magnitude has hit eastern Japan near Fukushima, prompting tsunami warnings of 3m (10ft) waves. Tremors were felt in Tokyo and a 2ft tsunami was seen at Fukushima's Onahama Port and a 3ft tsunami at Soma.
The Japan Meteorological Agency says the quake struck at around 6am local time, at a depth of 10 kilometres (6 miles). People were warned to move along the coast to higher ground, according to the Associated Press.
Two aftershocks were reported by USGS, one at 5.4 magnitude and the other at 4.8. A tsunami wave was located 22 kilometres off the coast of Iwaki City in Fukushima Prefecture, CNN affiliate NHK reported. Images showed waves described as "backwash" which occurs before a tsunami hits the coastline.
The Japanese public broadcaster cautioned safety. "Please do not think that you are safe. Please evacuate to high grounds," the network said. "Please think about the worst-case scenario and evacuate right away."
Fukushima prefecture is north of Tokyo and the location of a nuclear power plant that was devastated in 2011 by a huge tsunami following an offshore earthquake.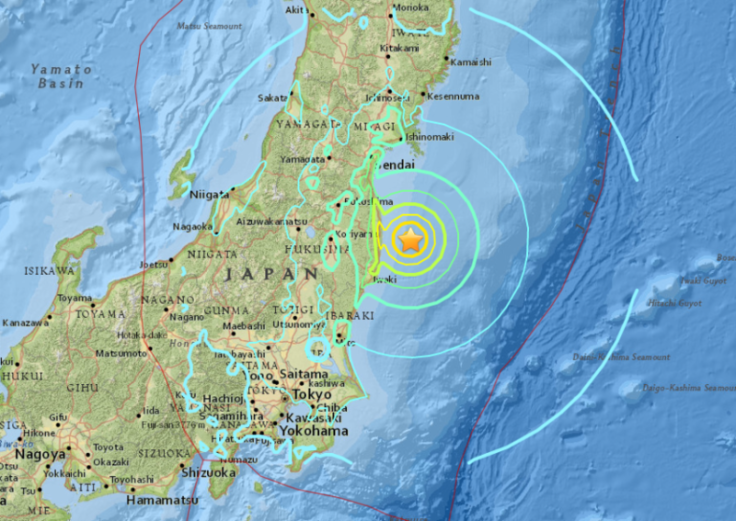 There were no immediate reports of damage or injury. Tokyo Electric Power Co is also checking its nuclear plants in Fukushima for damage, public broadcaster NHK said.
No damage was reported to the Onagawa nuclear plant. One woman suffered cuts to her head due to dishes falling as a result of the tremors, Kyodo news agency reported, citing the fire department.
TV footage showed ships travelling further out to sea from Fukushima harbour, for fear of tsunamis. Evacuation procedures are being carried out along coastal areas.
A fire broke out at Kureha Chemical and was extinguished by the Fire Department of Iwaki City, Fukushima Prefecture, according to NHK. No injuries were reported.
Japan Railways halted the journeys of bullet trains travelling in eastern Japan. Engineers are checking the tracks to ensure that they have not been damaged by the quake.
The US Geological Survey had initially put the quake at a magnitude of 7.3 but have downgraded it to 6.9.