An Italian architect has designed a foldable and "earthquake-proof" house that takes less than a day to put up.
The M.A.Di homes, designed by Renato Vidal, can fold flat and use cross-laminated wood to help brace for earthquakes. Because of the foldable design, the homes are easily movable and can be used as safe houses if an earthquake strikes.
The triangle-shaped homes start at about £19,000 (€21,700) and can rise to around £58,540. Sizes start at 27 sqm and offer variants at 46<sup>2m, 56<sup>2m, 70<sup>2mand a maximum 84<sup>2m for a family house. All of the models come with a kitchen, dining area, bathroom and two levels.
Area Legno, which supplies the wood for the homes, said the house offered unparalleled portability. "Thanks to the home's steel profile and steel hinges we can open and close this module with ease," employee Domenico Antonucci told New Atlas. "When the module is closed and folded for transportation the packed height measures 1.5 m, and then when it is opened on site, it has a height of 6.5 m."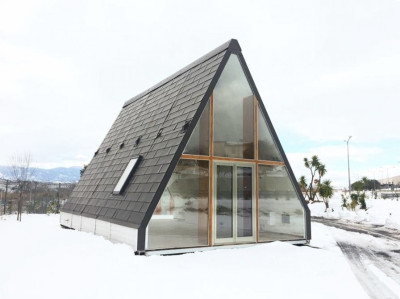 As housing prices soar across the globe, more and more cheap alternatives are becoming available. A Russian 3D printer startup managed to print an entire house in just 24 hours at a cost of just £8200.
According to UK Government statistics in June, house prices locally have risen by 5.2% compared to the previous year. The average cost is now £240,325 across the UK. In London, house prices did not increase by as much (2.9%), but the cost of owning a home was still high at £481,556.