East China Sea tension flares up between China and Japan ahead of G20 summit
The heightened stress over maritime disputes could cloud the upcoming summit, experts say.
Heightened tensions between two Asian giants — China and Japan — over maritime disputes involving the East and South China Sea could cloud the upcoming G20 summit in Hangzhou, China on 4 and 5 September. Beijing is irked over Tokyo's interference in the South China Sea dispute and is reportedly venting it out through aggressive actions in the East China Sea.
Japan has been asserting its claims in the East China Sea waters and some islands, which China has attempted to infringe upon in the recent past. Earlier in August, Chinese ships sailed near the disputed islands and several Chinese fishing boats were also reportedly seen in the waters.
"China is certainly ratcheting up tensions over the Senkaku/Diaoyu islands," Chris Hughes, professor of international politics and Japanese studies at the University of Warwick in the UK, told Bloomberg News. The professor was referring to the Japanese and Chinese names for the East China Sea islets that are at the centre of the dispute.
"There clearly is a domestic political need in China to demonstrate strength on territorial issues, especially after the Permanent Court of Arbitration's ruling in July, and this applies equally to Japan in the East China Sea as well as to the South China Sea," he added.
The Hague court ruling dismissed China's claims on the whole of South China Sea as "illegal", ruling in favour of the Philippines that had taken the matter to court. But dismissing the ruling, China began more aggressive and intensified military activities in the disputed waters. Japan had tried to ease tensions, urging the disputing parties to abide by the ruling.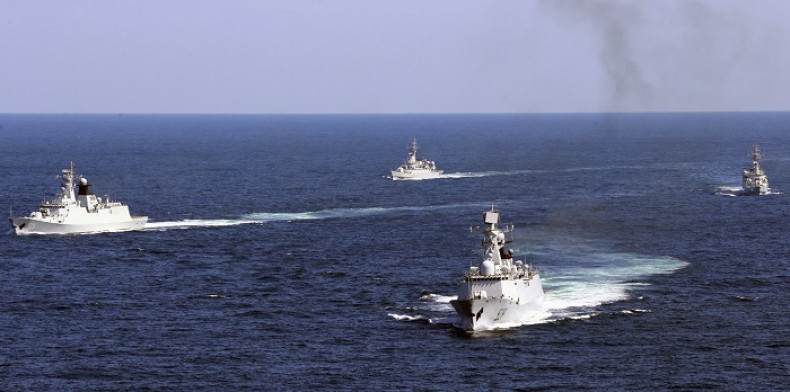 However, China alleged that Japan was taking negative action against it. Recently, on 23 August, Chinese foreign ministry spokesman Lu Kang said Japan had "taken a series of negative moves" in terms of its relationship with China, "especially when it keeps hyping up the South China Sea issue", Bloomberg reported.
China's current actions against neighbour Japan could also be aimed at gaining advantage in the East China Sea, Jia Qingguo, a professor and a member of the foreign affairs standing committee of China's top political advisory body, told the news source.
"Previously, the pattern was they took action and we made a response; they threw a problem at us and we had a crack at it. Now China is seeking to take the initiative and seize the upper hand. We make an opening gambit and they try to respond.
"They haven't got used to the new situation yet, but there is not much they can do but gradually adapt to it," he added.