The Metropolitan police is launching a hate crime investigation into an east London mosque after extremist leaflets were reportedly handed out to worshippers.
The booklets, which stated that anyone who does not believe in Islam, 'deserve(s) to be assassinated', were distributed during a gathering by the Dar-ul-Uloom Qadria Jilania mosque in Walthamstow.
Syed Abdul Qadir Jilani, an imam at the mosque, is featured on the front cover of the pamphlet, but has strongly denied any role in distributing the inflammatory material or having any knowledge of the booklet being distributed to worshippers, reports the Evening Standard.
Mr Jilani told the Standard: "I am not aware of if, why or how, the booklet was distributed in Dar-ul-Uloom Qadria Jilania. If it was distributed... then this was done without any authorisation by either me or any member of the committee of Dar-ul-Uloom Qadria Jilania."
He added that he did not give permission for his face to be used on the front and that the document has been falsely attributed to him. He further stated that he does not agree with the content.
The booklet, which was handed out to more than 100 people, provided a detailed account of fanatic Mumtaz Qadri, who murdered governor of Punjab, Salmaan Taseer in 2011. Qadri was serving as Taseer's bodyguard when he shot him 27 times with an AK-47 rifle, in Islamabad.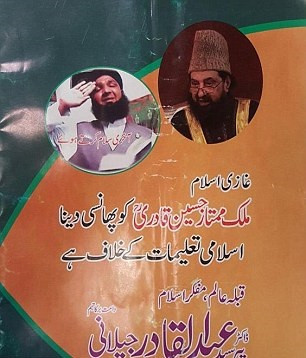 It is believed that he assassinated the politician because he had spoken out against the country's blasphemy laws as part of reform of the country's strict Islamic laws, according to Mail Online.
The booklet uses the assassin as an example, urging that 'all Muslims' should support Qadri and that being an apostate, someone who does not believe in religion, means you 'deserve to be assassinated'.
One worshipper, who received the leaflet told the Standard: "Two or three people delivered the leaflet. Unfortunately, I am shocked. I think it gives a bad impression. Islam teaches when you live here you obey the law and the rule of law, but this is not doing that."
A Scotland Yard spokesman said: "We will be assessing the contents of these leaflets to establish whether any criminal offence has taken place. We are committed to tackling hate crime in all its forms and have long since recognised the impact of hate crime on communities."