East London party turns into 'riot': Watch scores of police face down youths
One police officer was injured by a "missile" and Church Road was closed until the disturbance was cleared.
A party in East London spiralled into a disturbance described as a 'riot' by locals last night (26 July). Scores of police officers moved in formation to control crowds of youth on Church Road near Leyton.
One police officer suffered a minor injury as missiles were lobbed by the young crowds who had been unable to get into a party at a nearby school.
So far no one has been arrested despite officers having to form a 'daisy chain' on the major road in order to clear it of boisterous revellers.
Video footage shot by a concerned resident shows the officers being backed up by a police van flashing its blue light as the crowds are dispersed.
Local Mark Rivas told Express.co.uk he saw "hundreds" of young people gathering on the street outside his home.
"I was listening to music when I saw a whole crowd outside then I started filming. I could also see people jumping on cars and I heard dogs barking. The roads were also blocked off according to my friend who also saw it," he added.
Church Road was closed off and buses were diverted but reopened in the early hours of this morning.
There were social media reports of a police helicopter watching the scenes unfold and as many as ten police vehicles. Twitter users shared videos of the incident under the hashtag #churchroadriots.
In a statement, the Metropolitan Police said: "Police were called shortly before 9pm on Wednesday, 26 July, to reports of a large crowd causing a disturbance in the area of Church Road, Leyton.
"We understand that many of those in the crowd had been unable to gain access to a party being held at a nearby school.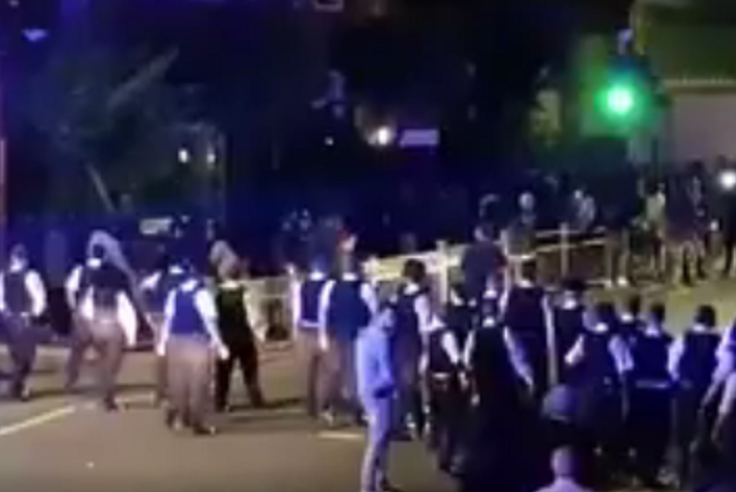 "Officers sought to disperse the crowd, the majority of whom complied with police. However, at around 11pm a group became hostile, and missiles were thrown at police officers. Most of those present had dispersed by midnight."
© Copyright IBTimes 2023. All rights reserved.