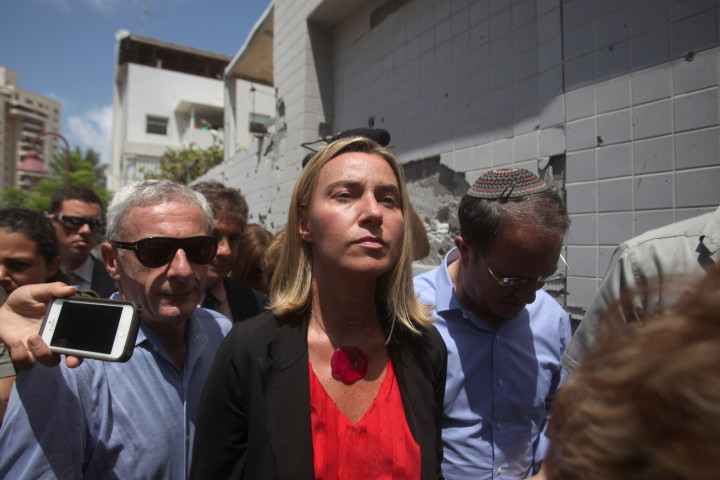 The new head of EU Foreign Policy has again hinted the EU is ready to rollout more sanctions, as tensions begin to once again escalate in Eastern Ukraine.
Federica Mogherini, the former Italian Foreign Affairs Minister who took up the role in Brussels on 1 November, has been using hard-line rhetoric against Russia all week, as European foreign ministers prepare to convene on 17 November.
Speaking in the aftermath of the elections held in Donetsk and Luhansk last weekend, she told a press conference in Warsaw this morning: "The issue of sanctions is always on the table. It is and it has been there. When we had negative signs, the level of sanctions increased... They stay on the table for evaluation.
"The so-called elections were a very negative sign. The situation on the ground is very negative, with people dying yesterday. It is clear that things are not improving....I am convinced that we will need to exercise pressure on Russia. So we need to discuss what kind of next step we take... also in our strategy in terms of sanctions."
It adds fuel to the speculation that the individuals involved in the elections will face travel bans, and possibly economic and financial sanctioning. The EU refuses to recognise the election, describing the vote as "illegitimate". Officials have also been pressuring Russia to maintain distance from the result, after Moscow implied that it considered it to be official.
It is the second time in two days that Mogherini has made such comments about sanctions. Speaking alongside the Nato Secretary General Jens Stoltenberg on 5 November, she said: "This is a process that is going to go on in the coming weeks. I would say the main topic of discussion today should be ... how do we make sure that we find a solution to the conflict?"
The ballots held in Donetsk and Luhansk saw which the rebel leader Alexander Zakharchenko sworn in as head of the "People's Republic of Donetsk".
Mogherini has been unafraid to ruffle feathers since her inauguration. Ahead of a trip to Israel later this week, she strongly condemned the construction of 500 new Jewish homes in Jerusalem.
She said the construction plans "seriously calls into question Israel's commitment to a peaceful negotiated settlement with the Palestinians" adding that previous requests to halt the building "have gone unheard, I call on the Israeli authorities to reverse (the plans) and put an end to its settlement policy in East Jerusalem and in the West Bank".