Thousands of volunteers have been deployed to West Africa in response to the Ebola crisis as the death toll reaches unprecedented levels. Over 6,300 people have died in Guinea, Liberia and Sierra Leone, and more than 17,000 people have been infected.
Yet joining the legions needed to combat one of the world's deadliest viruses is a daunting prospect. Volunteers face high mortality and staff numbers continue to be unequal to the magnitude of the problem. But the answer may lie with those directly affected by Ebola – the survivors.
Those who have recovered from the virus are at lesser risk of re-infection, a critical setback to volunteers on the frontline of the outbreak. Training and employing Ebola survivors as caregivers would also provide a vital source of income, for those living in an environment blighted by increased poverty and stigmatisation.
Survivors may be a valuable and overlooked resource in the struggle to contain the epidemic.
Re-infection
The recovery rate for the outbreak in West Africa is around 30%, with the number of survivors already in the thousands. Those who have overcome Ebola have the advantage of immunity – a potential solution to the risk of infection faced by all medical workers.
"To the best of our knowledge, survivors of Ebola are immune to the same strain of Ebola for a span of time yet to be determined," Sophie-Jane Madden, a spokesperson for Medecins Sans Frontieres UK (MSF), told IBTimes UK.
MSF has been at the forefront of the Ebola outbreak since March, with over 3,000 volunteers currently working in Guinea, Liberia, Sierra Leone and Mali.
"Survivors are employed at a number of MSF's facilities to talk with patients and help them bathe, eat and drink," Madden added. "They wear a lighter form of the cumbersome protective gear that is sufficient to protect them and others outside the facility, but is light enough to allow them to stay inside wards for longer before becoming too hot."
In this year's epidemic, the transmission of Ebola in the region has been rapid, abetted by poor healthcare infrastructures, limited education, poor public sanitation and an inadequate number of medical staff.
"In a sense, survivors are the only people in the world who are 'vaccinated' against further Ebola infection with the strain in circulation," Zena Stein, of the HIV Center for Clinical and Behavioural Studies at the New York State Psychiatric Institute, wrote in the International Journal of Epidemiology this week.
There are limitations in mobilising Ebola survivors to fight the virus, however. There is not enough evidence to prove immunisation is absolutely certain against other strains of Ebola.
"It is assumed that most people who have survived infection with Ebola Zaire (EbovZ) during this outbreak will have developed protective antibodies to EbovZ but until considerable research has been done we will not know for certain," said Dr Margaret Harris from the World Health Organization.
"It should also be remembered that even if they have acquired immunity to EbovZ, they will not necessarily have immunity to the other four species of the virus."
Stigma
It is not just the spread of the virus that has made Ebola such a devastating epidemic, but the fear of it itself. Not enough is known about the disease, and the growing death toll has sparked fears that treatment centres are aiding its spread.
Mistrust of foreign health workers is common, but unlike many foreign responders, survivors speak local languages, understand cultural dynamics, and may be viewed more favourably than outsiders during this time of intense fear.
Salome Karwah, from the Liberian capital Monrovia, thought her life was over when she tested positive for Ebola. But after recovering at a MSF treatment centre, she began working as a mental health counsellor to help others fight the virus.
"After the lab test, I was confirmed positive. I thought that was the end of my world," she said. "I was afraid, because we had heard people say that if you catch Ebola, you die."
Karwah's mother, father, fiancé, sister and niece had also all tested positive.
"Ebola is like a sickness from a different planet. It comes with so much pain," Karwah said. "My mother and father died while I was battling for my life. I didn't know they were dead. It was only one week later, when I had started recovering, that the nurses told me that they had passed away."
Karwah was allowed to leave the centre after 18 days, but was treated coldly when she returned home.
"Few of them welcomed me back; others are still afraid to be around me — they say that I still have Ebola. There was a particular group that kept calling our house 'Ebola home'," she said.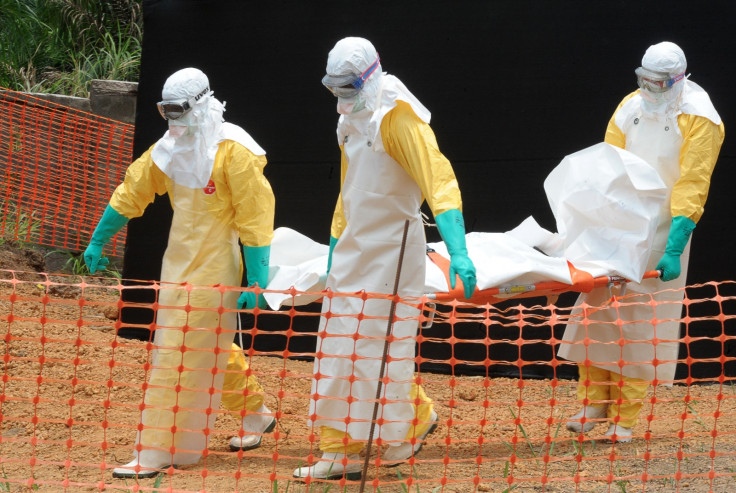 "Now, I am back at the treatment centre, helping people who are suffering from the virus to recover. I am working as a mental health counsellor. I find pleasure in helping people, and that is what brought me here. Even though our parents didn't survive the virus, we can help other people to recover."
Mike Noyes, ActionAid's head of humanitarian response, told IBTimes UK that the charity has often come across reports from Sierra Leone and Liberia that people are very mistrustful of people who have had Ebola.
"The stigma and fear surrounding the virus is so bad that people are finding it hard to believe that survivors are no longer infectious," Noyes said. "Ebola survivors are largely seen as people who have 'cheated death' and people find that difficult to understand.
"Ebola survivors are finding that even family members keep their distance when they return home."
Medical research
There is no known cure for the Ebola, but there is growing interest in a therapy involving the use of blood from recovered patients. Convalescent serum was first used in the case of a woman infected with Ebola in Zaire, the modern-day Democratic Republic of Congo, in 1976 – the year the virus first emerged.
The woman was treated with plasma from a person who had survived infection with the closely-related Marburg virus. Although the woman died within several days, she had less clinical bleeding than other Ebola patients.
When confronted with a virus, the immune system launches an attack using antibodies to kill it and prevent it from returning. Theoretically, Ebola antibodies found in a survivor's blood can be imported into an infected patient, to help their immune system defeat the virus.
"Convalescent plasma from recovered patients, containing antibodies against pathogens, has been safely used for other infectious diseases," said Johan van Griensven, lead researcher from Antwerp's Institute of Tropical Medicine.
While this has not yet proven to be effective, passive immunotherapy with survivors' blood could be an effective treatment for the tens of thousands of people predicted to battle Ebola.