Liberia is one of the three African countries, together with Sierra Leone and Guinea, worst hit by the Ebola outbreak which has killed more than 8,600 people.
Since the virus started spreading last January, NGOs and medical personnel have gone to West Africa to help patients and try to curb the contagion.
One year on, the outbreak is under control and there are less cases every day. However, another problem is emerging: Ebola has not only caused devastating loss of life, but also hit the economic growth of the three countries, prompting stagnation.
According to Mark Goldring, chief executive of Oxfam GB, the international community should intervene to provide funds to help the West African governments support people who have lost their jobs due to the outbreak.
This is why Oxfam, which has helped 650,000 people in Sierra Leone and 445,000 in Liberia since the virus outbreak, is calling for a "multi-million dollar post-Ebola Marshall Plan to put the three West African countries hit by the crisis back on their feet."
Goldring, who is now in Liberia and also planning to visit Sierra Leone, told IBTimes UK: "The Ebola outbreak in Liberia is very much under control and we are confident that the countries are making massive progress, but now we have to look at how people in Liberia will recover."
Goldring explained that many Liberians have been directly affected by the virus or know someone who died of it, but more than 70% have been affected by the economic impact resulting from the outbreak.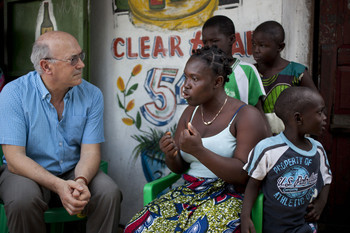 "I have seen survivors of Ebola who can't work, have nowhere to live and many of them have to look after the children of the relatives who died of Ebola. This is just one example of how the virus affected the country," he said.
"Oxfam research showed that in some part of Liberia, up to 90% of people have lost income and, as a result, cannot buy food. Schools have been closed for months and the health services are not running well. We need to move fast."
To help these people, the Ebola Marshall Plan will focus on three areas of "acute need": immediate cash for thousands of families affected by the crisis, investment in jobs and budget support for essential services such as health, education, water and sanitation.
"The infrastructures of Liberia have not been destroyed, but the economy has been affected and we need to support the country with specific activities that will benefit the poor, help children go back to school and promote employment opportunities to stimulate economic growth," Goldring said.
"We are asking donors to help affected countries through the transition period and we believe that the economic recovery can happen within the end of this year. Of course Liberia is able to make progress even without this plan, but the recovery would be much slower and we need to act quickly.
"Failure to help these countries after surviving Ebola will condemn them to a double-disaster. The world was late in waking up to the Ebola crisis, there can be no excuses for not helping to put these economies and lives back together."
Oxfam's appeal comes a few months after the UN Food and Agriculture Organisation (FAO) warned that Ebola could cause a food crisis due to travel restrictions imposed in the three countries.
"The situation will have long-lasting impacts on farmers' livelihoods and rural economies," FAO said.