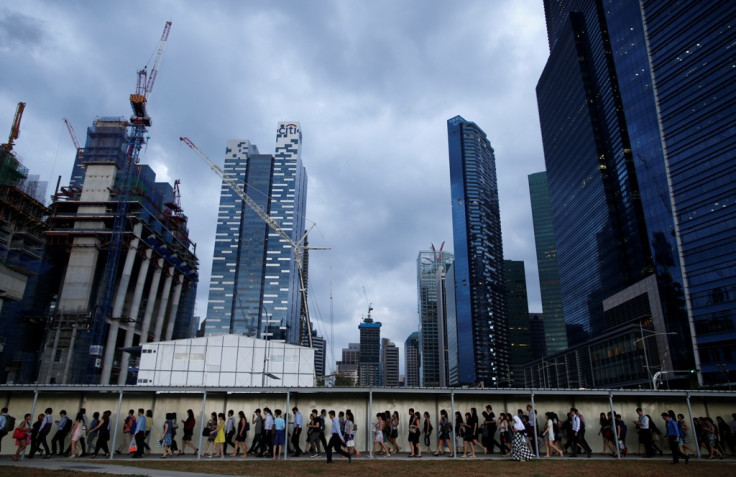 Economists have lowered their 2015 growth forecasts for Singapore from three months ago, and have also lowered their inflation projections, according to a central bank survey.
The latest predictions will fuel expectations for a further relaxation of monetary policy in April.
GDP
The median forecast of 21 economists surveyed by the Monetary Authority of Singapore (MAS) was for the island's GDP to expand 2.8% this year. A December survey predicted a 3.1% growth rate, while the government expects the economy to expand by 2% to 4%.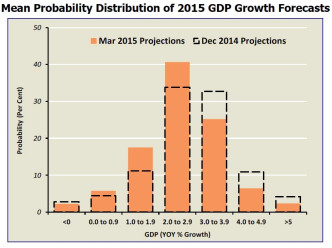 And as reflected by the mean probability distribution, the most likely outcome is for the Singapore economy to expand by between 2% and 2.9% this year, according to the survey report.
In the latest survey, economists pegged a 2% year-on-year growth rate for the first-quarter, lower than the 2.5% pace forecast three months ago.
Manufacturing is expected to expand 1.8% this year, sharply lower than the 3% gain projected previously. Economists also lowered their forecast for growth in construction to 2% from 3.1%.
Inflation
The MAS survey revealed that economists saw CPI inflation at 0.1% for the year, down from the 1.1% forecast earlier.
They now expect core inflation at 1% in 2015, as against the 1.9% forecast in the December survey.
The MAS has said it sees CPI-all items inflation in 2015 coming in at between minus 0.5% and 0.5%. The central bank has said it expects core inflation, which is the focus of monetary policy and excludes changes in the prices of cars and accommodation, to average 0.5% to 1.5% this year.
Singapore's exports in February fell more than expected, government data showed on 16 March, against a backdrop of a slowdown in China, the world's second-largest economy.
Capital Economics said in a 17 February note: "Singapore's economy picked up in the fourth quarter, despite a contraction in the manufacturing sector. Lower oil prices will help Singapore's economy in 2015, but slowing credit growth will keep growth shackled."
In January, the MAS unexpectedly lowered the slope of its policy band for the Singapore dollar in an unplanned policy statement.
A moderate and uneven global recovery has hurt the city-state's economic growth. Headwinds have also come from the government's attempts to reduce reliance on foreign workers, particularly on foreign labourers, which has raised business costs, Reuters reported.
The island's economy grew 2.9% in 2014.