At least 230 people have died and nearly 600 have been injured after an earthquake hit Ecuador late on Saturday, 16 April. The magnitude 7.8 earthquake hit near the town of Muisne and has caused widespread damage across the country, destroying buildings and knocking down a flyover. The earthquake is the largest in Ecuador since 1979.
President Rafael Correa decreed a state of emergency when flying back from Rome, saying: "This is a very painful test. I ask the country to be calm and united… Let's be strong; we will overcome this."
Later in the day, Correa told Associated Press that least 233 people had died. Earlier reports had put the death toll at 77. The Vice President also said there were deaths in the towns of Manta, Portoviejo and Guayaquil, all several hundred kilometres from the quakes epicentre.
"We're trying to do the most we can but there's almost nothing we can do," said Gabriel Alcívar, mayor of Pedernales, a town near the quake's epicenter. "This wasn't just a house that collapsed, it was an entire town."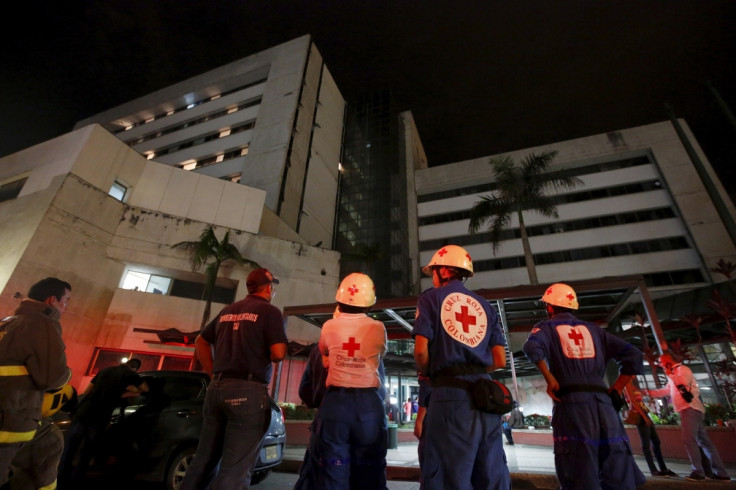 In the Manabí and Esmeraldas provinces, mobile phone operators are allowing free text messaging so people can reach loved ones and better report emergency situations. "Every emergency protocol has been activated," said the Security Ministry's Twitter account.
About 10,000 troops have been deployed to help people in Ecuador's coastal area which was struck. In addition, 4,600 national police and 500 firefighters have been sent to affected towns.
Special quake rescue teams are coming in from Colombia and Mexico, according to Correa. The Red Cross Ecuador says more than 1,200 volunteers are already working in rescue, evacuation and first aid operations.
According to the Pacific Tsunami Warning Center, the threat of tsunami has now "mostly passed". Peru also issued a tsunami threat for its coastline while the quake was felt in parts of Columbia.