Ed Sheeran has expressed his frustration at touts selling tickets for his upcoming tour on secondary websites at extortionate prices. Within minutes of going on sale on 2 February, tickets for the Shape Of You singer's anticipated live shows were sold-out. However, they quickly began appearing on resale websites priced as high as £1,000.
Sheeran, 25, is due to launch the world tour in Italy on 17 March in support of his new album Divide, with three shows scheduled at the O2 Arena in May. Floor standing tickets for 1 May at the London venue are selling for up to £999 ($1,200) on secondary website Stubhub while seats can be purchased for as much as £529.
Reacting to the anger ticket-less fans have expressed on social media, a publicist for Sheeran told the Press Assocation: "We are vehemently opposed to the unethical practices that occur in the secondary market. We have written to each of our partners, be them promoters, venues or ticketing companies detailing the way in which we expect tickets to be sold: direct to fans."
The statement notes that the Castle On The Hill singer has partnered with Twickets, a company aimed at the "ethical resale of tickets" allowing fans to swap tickets at face value or less.
The publicist continues: "We are aware and deeply concerned about the websites in question and have urged all fans not to engage with them in order to avoid being ripped off with higher prices or, potentially, counterfeit tickets. Once again, we urge all fans to only purchase tickets through official vendors."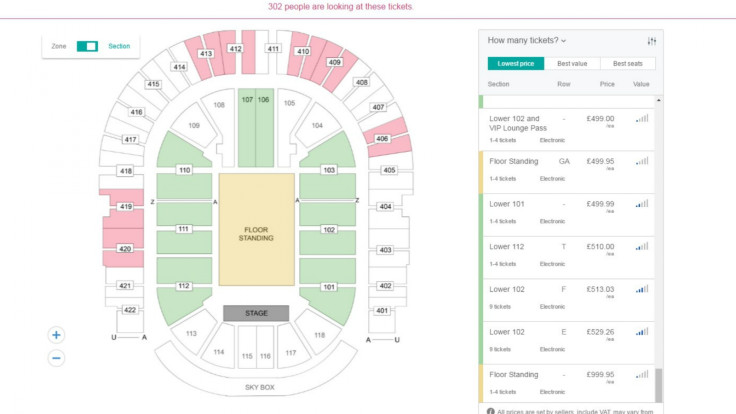 The issue of secondary websites allowing tickets to be resold at expensive prices has long-been an issue in the live entertainment industry. In January, Robbie Williams' management team were accused of placing tickets at higher prices on secondary website, Ie:music, owned by Ticketmaster.
Defending these 'platinum tickets', Ticketmaster told IBTimes UK: "Platinum tickets are a very small percentage of the best seats that are priced according to demand, in consultation with our clients, the event organisers. The UK live events industry has been successfully using platinum for many years so that the full value of these tickets goes back to the rights holders and not to resellers."
Ed Sheeran's 2017 tour begins at the Pala Alpitour in Turin, Italy on 17 March.