Ed Sheeran is scheduled for a hospital stay in the new year when he will undergo surgery to repair a eardrum that he damaged while on holiday in Spain. "I have to have an operation in January on my ear because I stupidly jumped off a yacht really high up and smashed it," the Thinking Out Loud singer said.
"I landed wrong, and it burst my eardrum so I have to go and get a graft, which means I'm not allowed to fly for a while, so it's kind of good [because] it means I have to stay at home," he told Australia's Nova radio.
Sheeran realised how bad the injury was a long while after the incident when he happened to be in the water again. "It's the most painful thing having a hole in your eardrum and having water go in," he explained.
The A Team singer completed his lengthy x (Multiply) Tour on 12 December with his 179<sup>th show in Auckland, New Zealand. After the hectic year, he plans to take some time off from his "phone, email and all social media for a while". He posted an Instagram message explaining his plans to his fans.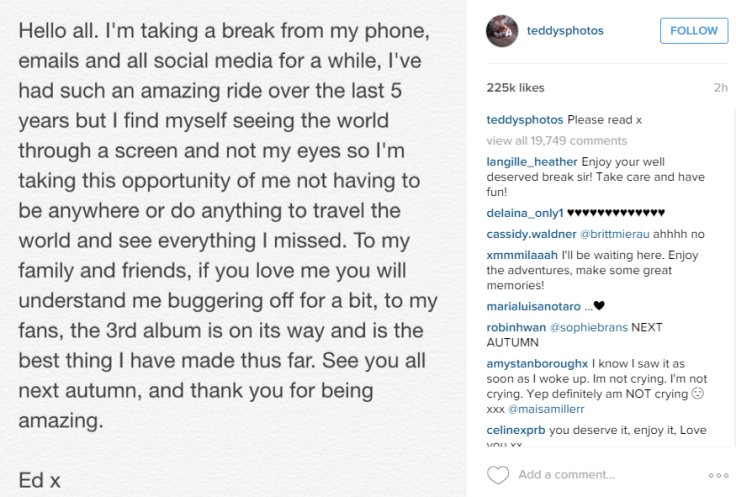 The surgery and recuperation period will require Sheeran to take a temporary break and he plans to follow it up with some travel. He will get back in action in next autumn, but has promised that his third album is the "best thing" he has made so far.
His latest song Thinking Out Loud featuring him showing off some new dance moves has been nominated for Record of The Year, Song of The Year and Best Pop Solo Performance for the 58<sup>th Annual Grammy Awards. The track also broke records by becoming the only song to spend a year in the UK's top 40 chart.