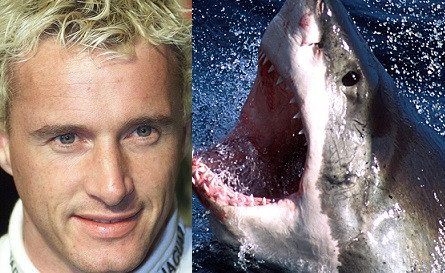 Formula 1 driver Eddie Irvine has spoken about how he fought off a shark attack in the Caribbean using a spear.
The former Ferrari and Jaguar racer told how he was attacked by the shark after going for a night time swim.
The 48-year-old said he fended off the shark by hitting it with a spear, but it continued to give chase as he attempted to swim away.
"I turned to face it - not so easy to do - and hit it with my spear," he said according to the Sun.
"It turned away but came back as I reversed out of his territory."
He added: "It was dusk - so I guess I deserved it a bit."
Irvine was recently sentenced to six months in jail by an Italian court following a nightclub brawl in Milan.
Irvine, 48, and Italian Gabriele Moratti, the son of a former Milan mayor, were both found guilty of "mutual injury" following the incident in 2008.
However, it is unlikely either will spend any time in jail after the sentence goes through the Italian courts' lengthy appeal process.
Irvine raced for both Ferrari and Jaguar during his nine year career as a F1 driver. His most successful season came in 1999 where he finished second behind McLaren's Mika Hakkinen.
After retiring, he built up a property empire and is now estimated to be worth around £165m (€200m).