At least 14 arrested as EDL and Britain First protesters clashed with anti-fascists in London
Far-right groups were compared to Nazis for using Westminster attack as propaganda.
Among a heavy police presence, far-right and anti-fascist protesters have squared off in the heart of London on Saturday (1 April).
It follows a call from the English Defence League (EDL) and Britain First to rally against Islamic terrorism in the wake of the Westminster attack, which killed five people including perpetrator Khalid Masood.
Anti-fascist groups such as United Against Fascism called for a counter-protest in response, so that anti-Muslim groups could not use the attack to spread anti-immigrant and racist propaganda.
Before the march, London's Metropolitan Police issued a warning to both sets of protesters to demonstrate peacefully or face arrest.
Much of the day passed without any serious incident as police kept the opposing groups heavily segregated, taking up to 20 minutes to cross from one end of Victoria Embankment to the other.
However, police confirmed to IBTimes UK that 14 people were arrested. They would not disclose at this stage from which sides of the protests those arrested came from.
When protesters got within shouting of each other, slogans of "Britain First" and "Nazi scum off our streets" were exchanged back and forth.
Other than those protesting, the area – walking distance from the terror attack on 22 March – was filled with tourists, who were largely shocked by the presence of right-wing groups in London's diverse streets.
Rukimini Prasad told IBTimes UK: "It's absolutely terrifying. It's really scary.
"I've lived in London my whole life and I've never been afraid to walk around anywhere and today, I'm terrified walking around in my own city.
"It's a really scary feeling, which I've actually never had before."
Others were unnerved by the large presence of police in the streets in light of the terror attack while others were comforted by it.
Emer Workman, 36, from Ireland told IBTimes UK before the protest: "There's definitely a noticeable difference in London today.
"Obviously you would expect a large police presence after what happened in Westminster, but it's a bit unnerving.
"It makes you a bit nervous about the thought of something else happening again."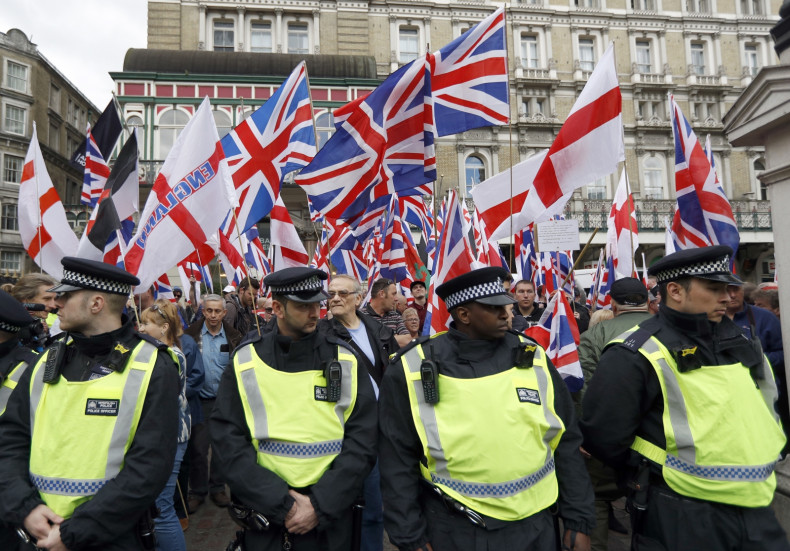 History of violence
Clashes between far-right and anti-fascist protesters date back to the 1930s when fascism swept across Europe in the aftermath of World War One.
In London, the most notorious clash between protesters took place in 1936 when Oswald Mosley's British Union of Fascists attempted to marched through Cable Street in the East End to intimidate the Jewish and Irish minorities which were prevalent in the area.
However, they were met with over 20,000 anti-fascist demonstrators who did not let them pass, which lead to heavy fighting between the groups.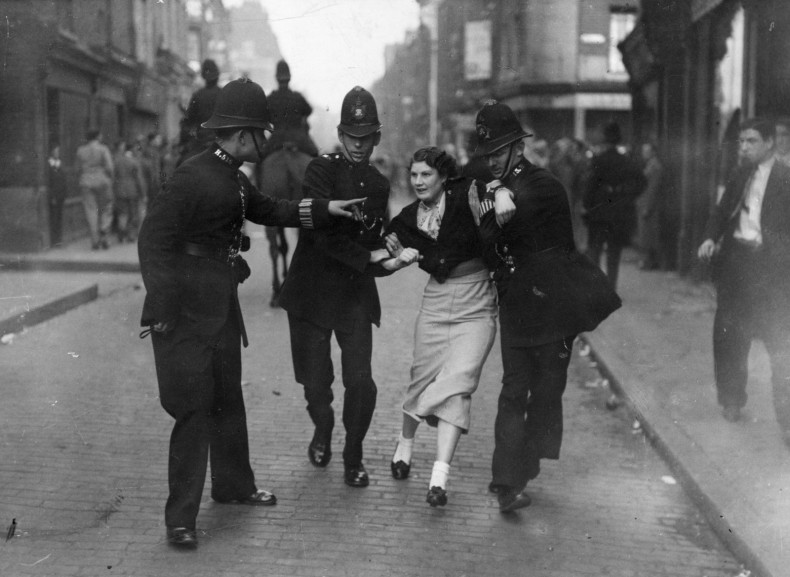 It became known as the Battle of Cable Street and celebrated its 80th anniversary last year, which was marked with a peaceful march that included speeches from Labour leader Jeremy Corbyn and Max Levitas, a 101-year-old who was present that day.
At the Battle of Cable Street, anti-fascist protesters chanted the slogan "No pasarán" – Spanish for "They shall not pass" – which was made popular during the Spanish Civil War between the Republicans and General Franco's Nationalists.
The term "No pasarán" remains popular among anti-fascists to this day and was frequently chanted at Saturday's counter-protest.