Far-right activists plan to hold an "anti-terrorism" protest just yards from where victims lost their lives during Wednesday's (22 March) attack in Westminster.
It comes as police and anti-extremism campaigners expressed fears that extreme right-wing groups will try to use the Islamist terror attack to sow division in areas with large Muslim populations.
Radical anti-Islam party Britain First intends to meet near Trafalgar Square next Saturday (1 April), before marching with flags and banners along Whitehall and gathering for a rally in Parliament Square.
The controversial group – notorious for its so-called "mosque invasions" and "Christian patrols" – then plans to hold speeches by guest speakers from other anti-Islam groups.
This could include former English Defence League (EDL) leader Tommy Robinson, who caused controversy with an anti-Islam tirade at the scene of Wednesday's attack just hours after it had happened.
Robinson – real name Stephen Yaxley-Lennon – has yet to confirm his attendance but told IBTimes UK he "may be there". Other attendees have also yet to be confirmed.
While Britain First said it was liaising with police to confirm the route for the march, the party's plans could be scuppered by strict laws controlling protests outside Parliament.
It will also likely face strong opposition from politicians and anti-extremism campaigners, who have already accused the group of political opportunism.
It comes as Prime Minister Theresa May on Thursday led condemnation from MPs for the previous day's attack, which left four people dead, including the attacker, and 29 injured.
The carnage saw the suspect – named by police as British-born Khalid Masood – mow down pedestrians on Westminster Bridge with a Hyundai, before crashing his vehicle into some railings.
The 52-year-old then ran into the Palace of Westminster, where he stabbed a police officer to death before being shot dead.
The prospect of far-right activists marching so close to where victims lost their lives or suffered serious injuries comes amid fears anti-Islam groups will try to use the attack to divide communities.
The Met Police gave a tacit warning to far-right groups in the hours after Wednesday's attack.
"The police stand with all communities in the UK and will take action against anyone who seeks to undermine society, especially where their crimes are motivated by hate," said Mark Rowley, the head of counterterrorism policing and acting deputy commissioner of the Met Police.
"We must recognise now that our Muslim communities will feel anxious at this time given the past behaviour of the extreme-right wing and we will continue to work with all community leaders in the coming days."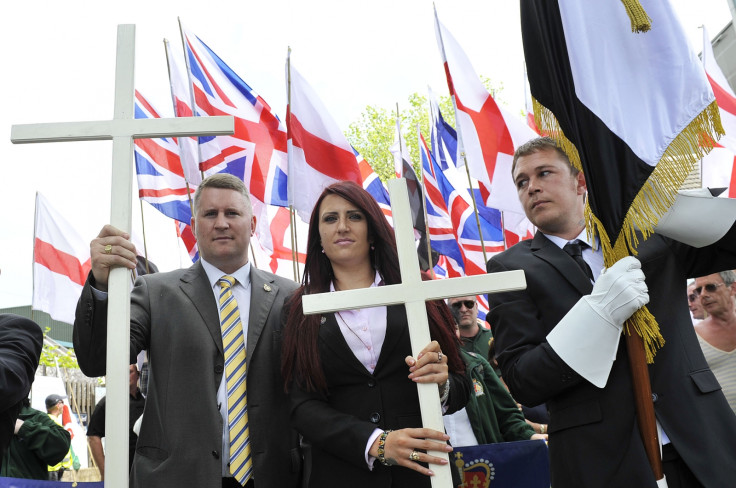 Hope Not Hate, the UK's leading anti-extremism charity, also warned of groups "who call for division". It questioned why far-right groups like Britain First hadn't organised marches when right-wing terrorist Tommy Mair murdered Labour MP Jo Cox.
"Britain First is nothing more than a busted flush, pathetically trying to use a terrorist outrage as some sort of justification for its existence," it said.
"The truth is that terrorist groups and extremists like Britain First need each other. In fact, they thrive on each other.
"Where was Paul Golding after the murder of Jo Cox? Or Tommy Robinson? Banned groups such as National Action were even lauding her murder.
"We have come out and exposed the antics and networks of both Islamist extremists and their far-right counterparts, and that is absolutely the right position to take.
"There will undoubtedly be, and already have been, figures on the far-right who will and have tried to use yesterday's attack to call for crack downs and spread their poison online. We're calling on our supporters to remain vigilant to anyone who celebrates the attacks, or who attempts to use them to spread racial or religious hatred, and to report in all incidents to relevant authorities and social media companies."
It added: "In the coming hours and days, there will be some who call for more hatred. Who want nothing more than to meet violence with violence. That is the path to ruin."
Golding, recently released from prison following an incident outside a mosque in Cardiff, has long been accused of causing unrest in British Muslim communities with provocative street-level action.
His party, which repeatedly warns of a coming "civil war" with Islam, insists it holds peaceful protests.
But its marches often result in clashes with local residents or anti-fascist campaigners.
In November last year, the group's deputy leader, Jayda Fransen, was convicted of religious harassment after she hurled abuse at a Muslim woman for wearing a hijab during a march through Luton.
Golding dismissed concerns about next Saturday's planned march outside Parliament, telling IBTimes UK those who accused his group of opportunism "can get stuffed".
He added: "It's bending over backwards to appease militant Islam that's got us here in the first place. The time for being 'sensitive' and politically correct has long gone."
Golding said the group had originally planned to march in Darwen in Lancashire, but changed its location to London in light of Wednesday's attack.
The Met Police has been contacted for a comment by IBTimes UK.