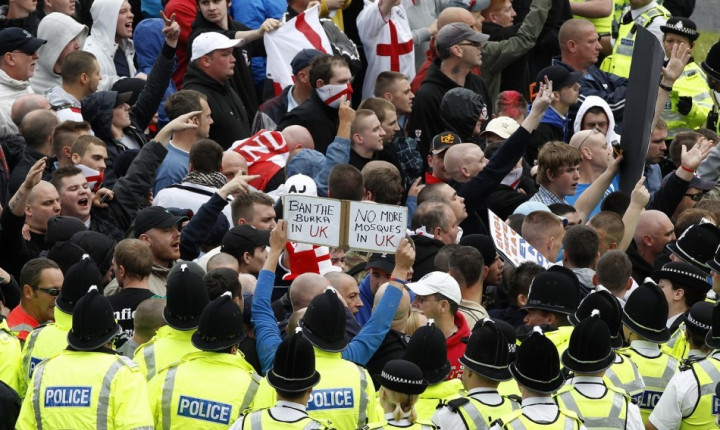 Police and campaigners are urging people not to be provoked into violence during the English Defence League's demonstration in Bradford on Saturday 12 October.
The rally in the centre of Bradford will be the first by the EDL since the departure of its leader Tommy Robinson, who said he left the anti-Islamic group because "far-right extremism" had "ruined everything".
The leader of Bradford Council, David Green, has told people wishing to protest against the controversial group not to resort to violence or anger towards the EDL or the counter-demonstration by Unite Against Fascism.
Bradford Together - a Banner group consisting of several organisations such as Hope not Hate, Bradford Women for Peace and Bradford Council for Mosques - are also planning an event on the same day of the rally which aims to promote "peace, unity and solidarity" in Bradford.
Green said: "Adrenalin can make people do things that they would not normally do and would regret later.
"The vast majority of people don't want the EDL here and many people also don't want Unite Against Fascism here.
"People need to be careful not to get embroiled and provoked by either of these groups.
"Police have a duty to police the whole of the centre without bias and therefore if people get on the wrong side of the law they will be arrested."
Chief supt Simon Atkin, divisional commander of Bradford South Police, also urged people from every side to allow police to safely control the demonstrations.
He said: "Everything we are doing at this moment in time is to urge everybody from all different communities to show the same restraint to allow the police to get on with dealing with the protest.
"We will look to get the centre of Bradford back to normality as quickly as possible.
"I would suggest that on Saturday if people have plans to come shopping or use public spaces they should continue to do so. There will be a significant policing presence in the centre of Bradford.
"I would say to people - let the police get on with it and please do not get dragged into any protests."
Bradford Together spokesman Paul Meszaros added: "We will continue the theme of peace, unity and solidarity in the lead-up to the EDL demonstration by spreading the message of hope and peace in the city centre."