The airwaves have been awash of late with UK telecom takeover stories. Firstly Telefonica's UK mobile phone operator arm O2 is reportedly to be sold to Hong Kong billionaire Li Ka Shing's Hutchison Whampoa, the owner of the Three mobile phone network, for £10bn.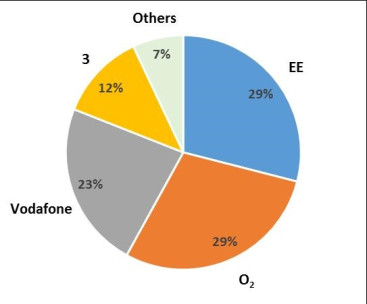 O2 plus Three's combined UK mobile market share would rise to 40% from Three's current 12% share, easily becoming the UK's largest mobile operator (Figure 1a and b).
Secondly, both Deutsche Telekom and Orange are potentially ready to sell their combined UK mobile operation EE to BT, who is looking to buy its way back into the UK mobile network business some 13 years after selling its mobile arm BT Cellnet, which eventually turned into O2<sub>.
BT's potential purchase of EE fits with the predictions made by the credit ratings firm Standard & Poors, who expect to see more fixed-mobile combinations in the UK telecoms market as key players seek both revenue and cost synergies.
Vodafone the wallflower at the mobile phone party?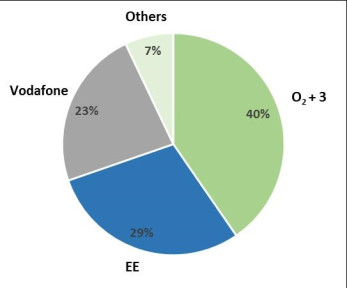 Looking at the four UK mobile phone incumbents, the only operator so far not mentioned in this merger and acquisition merry-go-round is the number three player ranked by customers, Vodafone.
Believe it or not, even at a total market capitalisation of nearly £64bn currently, mobile phone juggernaut Vodafone (LSE code VOD) has been talked of as a potential acquisition target in the global telecoms sector, ever since it agreed to sell:
its 50% share of US mobile operator Verizon Wireless back to Verizon for £54bn
its 44% share in French mobile operator SFR back to majority holder Vivendi.
Who could afford to buy Vodafone? Two much larger suitors have been identified in the recent past: US telecoms giant AT&T and the leading Chinese mobile phone network, China Mobile. In terms both of market capitalisation and annual income generated, these two telecoms companies dwarf Vodafone (Figure 2a and b).
In fact, AT&T and China Mobile are not the only two potential suitors mentioned, as back in September last year Japanese conglomerate Softbank, the owner of Japanese mobile network Softbank Mobile (formerly Vodafone Japan) and US mobile network Sprint, was also earmarked as a potential bidder for Vodafone.
Vodafone as predator rather than prey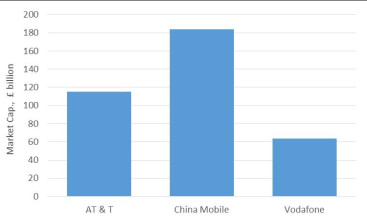 Given Vodafone's size, it would certainly be a huge undertaking for any acquirer to pursue. But as well as being a potential takeover target, Vodafone can also be seen as a potential acquirer itself in the rapidly consolidating UK telecoms market.
Indeed, Vodafone's CEO Vittorio Colao recently warned that were BT to move aggressively into the mobile telecoms space, then Vodafone would retaliate by moving into the consumer broadband business, where it has been thus far absent.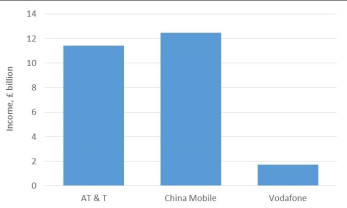 But how would it accomplish this strategic move, given that thus far in broadband it only serves business customers, after buying out Cable & Wireless's UK broadband network?
One potential target could be TalkTalk (LSE code TALK), one of the premier consumer broadband network operators, serving four million customers in the UK.
TalkTalk is today the fourth-largest broadband internet provider in the UK (Figure 3), achieved largely through offering very cheap combined "triple-play" offerings (broadband internet, telephone and television services).
TalkTalk CEO Dido Harding has even gone as far as to state that: "If [Vodafone] decides it simply has to quickly have a fixed-line asset, then I'm not naive enough to think that we're not one of the companies it would look at".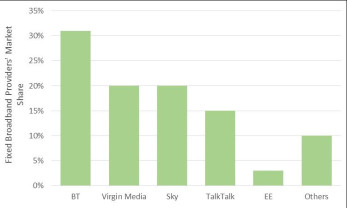 Two potential takeover targets in UK telecoms to choose from
So there you have it – two ways to play ongoing consolidation in the UK telecoms sector: Vodafone and TalkTalk.
Note that Vodafone offers a juicy dividend yield of 4.8%, and TalkTalk is close behind with a prospective yield of 4.7%. Not bad dividends to pick up while you are waiting for a potential takeover.
Edmund Shing is the author of The Idle Investor (Harriman House), an expert columnist and a global equity fund manager at BCS AM. He holds a PhD in Artificial Intelligence.