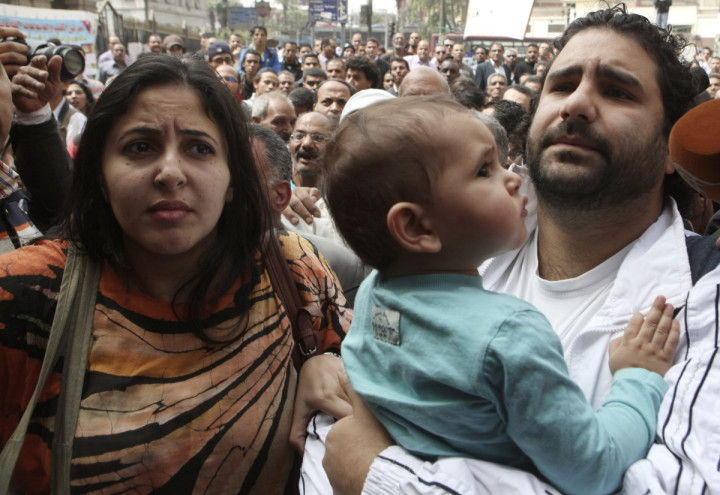 Egyptian activist and blogger Alaa Abdel Fattah has been freed on bail at a retrial over charges of violating the controversial protest law in Egypt.
Fattah, who has already been convicted in absentia in June and given a 15-year prison sentence, was granted a release on bail of 5,000 Egyptian pounds (£430) along with two other activists. He will have his case transferred to another court.
His lawyer Mohamed Abdel Aziz said the court demanded an investigation into the prosecutor's use of videos belonging to Abdel Fattah which allegedly violated his privacy. It referred to previous hearing of the trial, in which the prosecutor showed personal videos of Fattah which had no connection to the case.
One of Egypt's most prominent secular activists since the early 2000s, Fattah, 32, was first detained in 2006 under the regime of Hosni Mubarak for a rally in favour of an independent judiciary. After being held for six weeks without charges, he was freed.
Fattah, who is a software developer and blogger, comes from a family of social activism. His father Ahmed Seif el Islam, a leading human rights lawyer, was jailed and tortured in the 1980s for his activism. According to Amnesty International, Seif el-Islam worked on the "most important human rights-related cases in the country". He died aged 63 at the end of August.
The activist's sister, Mona Saif, has launched a movement against military trials for civilians.
After the Egypt's uprising broke out, Fattah took part to several demonstrations on the Cairo streets. In October 2011, he was arrested on charges of inciting violence against the military during the Maspero protests, in which hundreds of people were injured and 27 died. Fattah was released after two months in jail.
Last November, the military-backed government approved a law forbidding any gatherings of more than 10 people without police permission. After it was approved, Fattah attended a demonstration in front of the Shura Council, Egypt's upper house, against the new constitution which grants the military expanded and special powers such as the power to try civilians in secret military courts.
Fattah, who has 611,000 followers on Twitter, was arrested and charged with organising an illegal protests. He was beaten upon his arrest at his house.