A survivor of an attack on an Egyptian hotel said he was "lucky" to have deflected the knife when his assailant tried to stab him in the chest. In a Facebook post, Sammie Olovsson said the knife cut some muscles in his neck but no arteries.
The 27-year-old Swede was eating in the seafront restaurant of the four-star Bella Vista Hotel in the Red Sea Resort of Hurghada when two attackers stormed in on 8 January.

With a gun held on him, his horrified 64-year-old father, Jan-Eric Olovsson, could do nothing as they slashed at his son. "Everything went really fast," Olovsson Sr told Sweden's Expressen newspaper. "We sat there and ate and then they showed up. I thought they came from outside. I myself had the gun pointed at me three times, and Sammie was stabbed with the knife."
He said his son was stabbed four times in the neck but "did well" because of his physical strength, adding "he was lying in a pool of blood". Olovsson Sr said: "I told him to lie still. I got up a few times and when I saw it was clear, I ran out on the street and tried to get hold of an ambulance." He added that another woman who was eating in the restaurant was also wounded.
German tourist Barbara Wolf, who was dining in the restaurant at the time of the assault but and left uninjured, said she "saw a dead man on the floor". She added: "He was half naked. The other man next to him screamed of pains but nobody did anything. We have been so shocked."
Mohammed Beram, a retired military officer living nearby who rushed to the scene to offer help, said security officials "took their clothes off to make sure they were not hiding explosive belts underneath them".
He said the attacker who was killed was wearing an explosive vest, while the second attacker was wounded and captured alive by security forces.
An Egyptian hospital official, who requested anonymity in line with regulations, identified the victims as Austrian nationals Renata and Wilhelm Weisslein, both aged 72. They suffered shallow wounds, the official told the Associated Press (AP).
In his Facebook post, Olovsson said he would be discharged on 9 January and Nile Hospital chairman Reda el-Naggar told AP the other two were also stable enough to leave on the same day.
Security forces shot both attackers, killing one and wounding the other before arresting him. The Interior Ministry said that two men armed with knives and pellet guns attacked the tourists.
In a Facebook statement, the Bella Vista Hotel described the assailants as "drugged," without elaborating.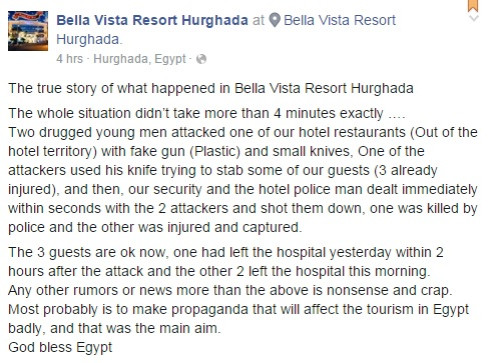 The hotel said the purpose of the attack was most probably "to make propaganda that will affect the tourism in Egypt badly". It added: "Our security and the hotel police man dealt immediately within seconds with the two attackers and shot them down. One was killed by police and the other was injured and captured."
No one has so far claimed responsibility for the attack, the second in as many days on an Egyptian hotel. However, an Islamic State (Isis) affiliate claimed an attack on 7 January on a hotel in Cairo near the Pyramids that did not wound anyone.
Egypt has a track record of blaming some attacks on drug use or mentally disabled individuals, in an apparent bid to head off an image of unrest or instability. The country has been struggling to revive its tourism industry after years of unrest stemming from the 2011 uprising that toppled long-time autocrat Hosni Mubarak.
But after a Metrojet airliner exploded shortly after taking off from Sharm el-Sheikh airport in November 2015 killing all 224 people on board, mainly returning Russian holidaymakers, tourists were quick to cancel bookings while others changed their destinations.
In December 2015, Peter Long, joint chief executive of Thomson and First Choice, (TUI) compared the resort to a ghost town, saying it remained to be seen if it will ever fully recover.