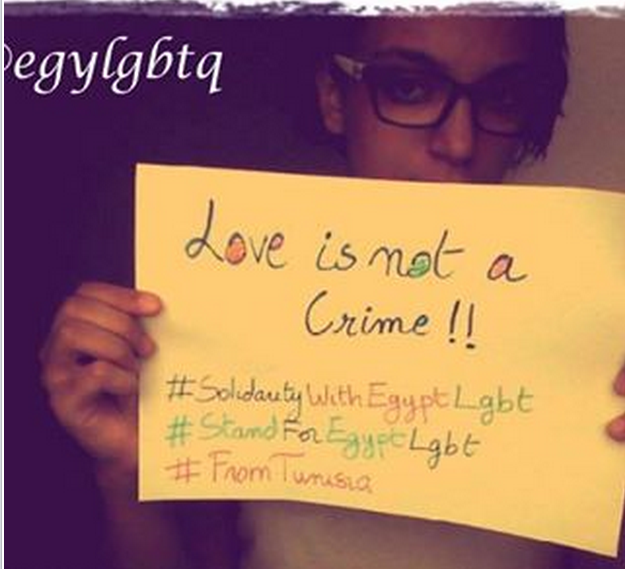 Gay rights supporters have organised an online campaign to protest against the Egyptian government's persecution of homosexuals in the country.
The organisers are using Twitter hashtags #StandForEgyptLGBT and #SolidarityWithEgyptLGBT to call for demonstrations against homophobic attacks.
The campaign follows the arrest of seven men who appeared in a video celebrating a gay wedding - believed to be the first in the country.
Authorities justified their arrest by saying that the images of the footage were "humiliating, regrettable and would anger God," and "constituted a criminal act". The trial is still ongoing.
"We invite you to participate in the demonstration that will take place on 18 October 2014 in front of every Egyptian embassy around the world [if accessible] to protest against human rights violations committed by the Egyptian government, relying on unlawful and unethical media tools, towards those of differing sexual orientations and gender identities," the organisers said in a statement.
The organisers then explained that hashtag, #Stopbluecoat, is also part of the campaign and people should use it to call for an end of extensive surveillance of LGBT community members and activists by the government.
Blue Coat Systems, a company based in Sunnyvale, California, has sold the Egyptian government extensive surveillance technology. According to BuzzFeed, the Egyptian government is willing to use it against all activists and minorities to persecute and discriminate against them including the spying on the gay community in Egypt.
The campaign is attracting dozen of netizens.
Egyptian Homosexuals at Risk of Imprisonment and Torture
Homosexuality is not illegal in Egypt, however gay people are often arrested by the authorities and charged with debauchery, immorality or blasphemy.
According to a Human Rights Watch report, Egyptian men suspected of being homosexual are at risk of being harassed, arrested and even tortured.
Last April, four men were convicted and sentenced to eight years in prison for debauchery, as they held "deviant" sex parties in which men allegedly wore women's clothes and make up.
In 2001, Egyptian police raided a club in Cairo, where 52 suspected gay men were arrested and charged with "habitual debauchery" and "obscene behaviour".