Egypt: Man Jailed for Naming Donkey After Military Chief Abdel Fattah al-Sisi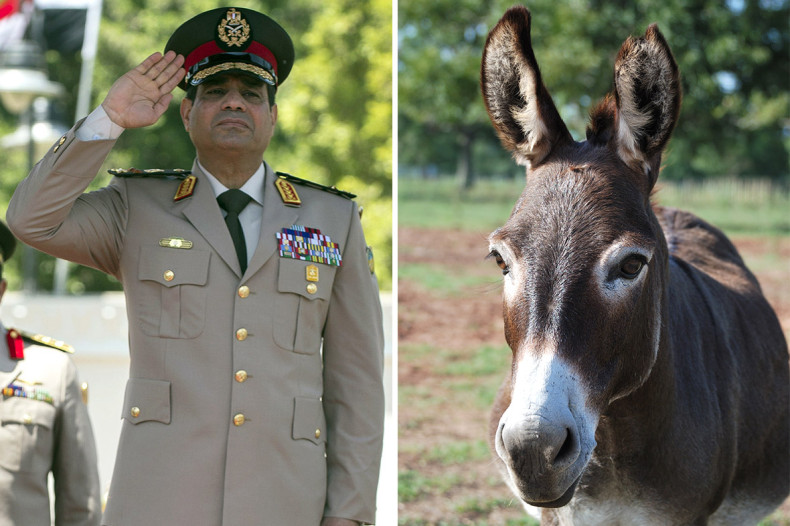 An Egyptian farmer has been jailed for a year for naming his donkey after the country's former military chief Abdel Fattah al-Sisi.
Omar Abul Maged was found guilty of "humiliating the military" after he put a military-style cap on his donkey, covered it with a poster of al-Sisi and rode it through his village in protest at the general's decision to oust former President Mohammed Morsi last summer.
Police arrested Maged in September and, after spending six months in custody, he was convicted by the Qena Misdemeanor Court.
Human rights groups have condemned the sentence.
Andalus Centre for Tolerance and Anti-Violence Studies said that the conviction "raises doubts about the fairness of the judiciary system in Egypt", Egypt Independent reported.
Abul Maged's arrest coincided with the detention of eight activists for spraying anti-military graffiti as well as the cancellation of Bassem Yossef's satirical show after it indirectly ridiculed the military in its first episode following the military takeover in July, Albawaba reported.
Egypt made headlines worldwide after a court in Cairo condemned 529 pro-Morsi Muslim Brotherhood defendants to death in March 2013.
The court in Minya, south of Egypt's capital Cairo, issued its ruling after only two sessions, during which the defendants' lawyers reportedly complained they had no chance to present their case.
Egypt has been also accused of torturing detainees as part of a brutal crackdown on dissent.
Up to 20,000 people have been held by Egyptian authorities since last July, and many are emerging from state custody telling of brutal beatings, electric shocks and sexual abuse.
Sisi, who took power after Morsi had been overthrown, has recently resigned his position in the army as he is running for presidential election.
The presidential election will be held in May. Sisi's expected victory would restore a presidency with a military background.