Egypt Revolution anniversary: 40 powerful photos of the 25 January 2011 Arab Spring protests
Five years ago, on 25 January 2011, anti-government protests began across Egypt, publicised on social media.
Five years ago, on 25 January 2011, anti-government protests began across Egypt, publicised on social media. These protests were inspired by the dawn of the "Arab Spring" in Tunisia, where anti-government protesters succeeded in bringing down the government just over a week earlier.
The demonstrations in Cairo centred on the landmark Tahrir Square. Thousands of demonstrators voiced their anger, complaining of poverty and repression in a "Day of Wrath" and, in unprecedented scenes, police fought with thousands of Egyptians who defied a government ban to protest against then president Hosni Mubarak. The protests intensified, with more than a million people around Egypt taking to the streets, calling for an end to Mubarak's 30-year rule.
On 10 February, the 17th day of protests, Mubarak announced that a national dialogue was under way to transfer power to the vice-president, but he refused to leave office immediately, as demanded by protesters. However, a day later, Mubarak was forced to step down and a military council was formed to run the country's affairs. Scenes of mass jubilation were seen across the country with hundreds of thousands packed into Tahrir Square to celebrate the dawn of what they believed would be a new Egypt.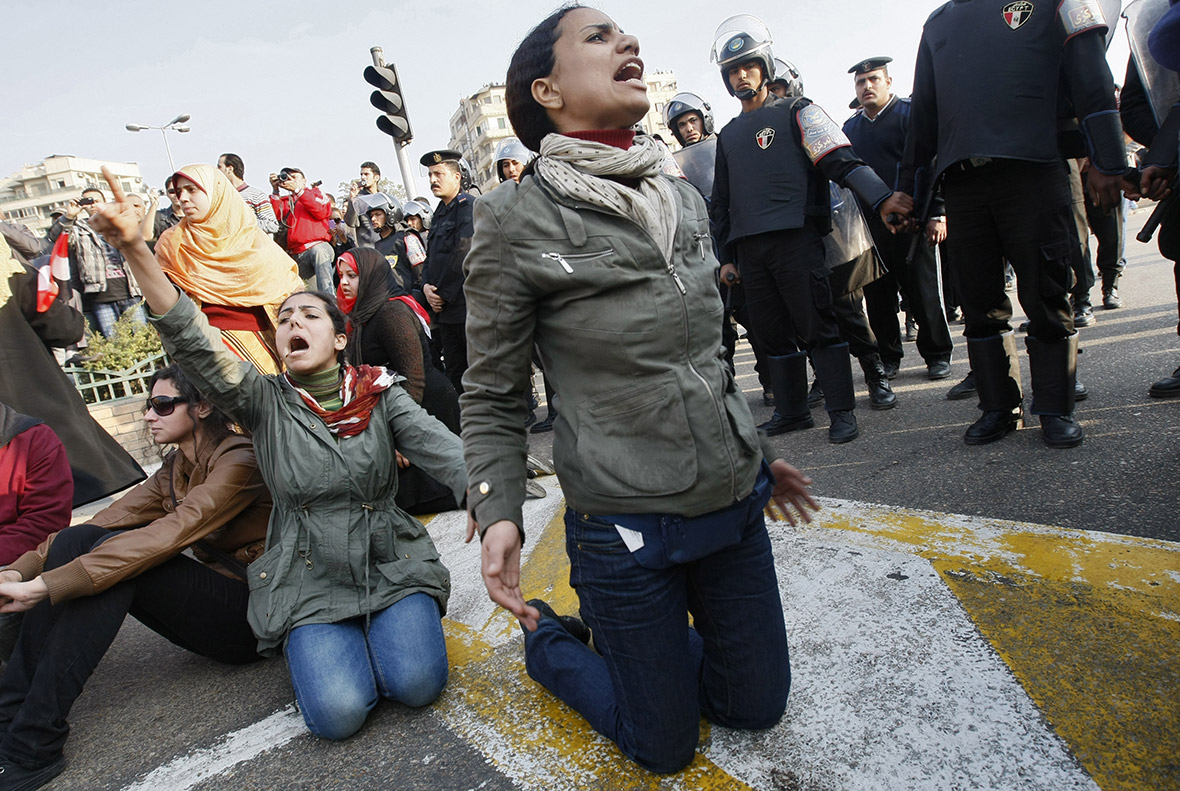 The Arab Spring saw Egypt's Mubarak, Libya's Muammar Gaddafi and Yemen's Ali Abdullah Saleh all deposed. But the Tunisian transition to democracy has been a difficult model to follow and five years after the first protests, much of the region is still beset by conflict, instability and repression.
Five years on, Egypt has replaced its toppled dictator with a military one who rules with an iron fist and whose judges sentenced elected Muslim Brotherhood leaders to life in prison as part of a crackdown on the opposition.
As the fifth anniversary of the 25 January protests that ended Mubarak's 30-year rule approaches, security forces have arrested a number of activists accused of planning demonstrations. The toughest security crackdown in Egypt's history is a clear sign that authorities are worried. Officials, including President Abdel-Fattah el-Sisi, have voiced concern over attempts to mark the anniversary with new protests. With thousands of government opponents behind bars, the likelihood of massive protests is slim. However, analysts and activists say, the crackdown reveals an insecurity that has grown since general-turned-president Sisi ousted the Muslim Brotherhood from power two years ago.
© Copyright IBTimes 2023. All rights reserved.