Egyptair hijack raises new concerns over Egyptian airport security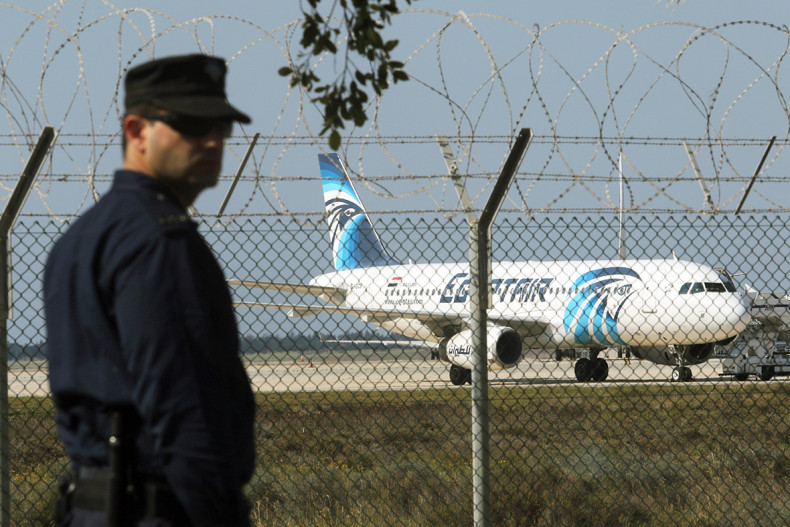 For the second time in six months Egyptian airport security is under scrutiny. On Tuesday, 29 March,a man claiming to be wearing an explosives belt hijacked a plane shortly after it took off from Alexandria airport, forcing it to land in Cyprus where he held passengers and crew hostage before his arrest.
It comes after Isis claimed responsibility for downing a Russian passenger airplane in the Sinai Peninsula in October, killing all 224 crew and passengers on board. The terrorist group claimed it smuggled explosives on board concealed inside a soft drinks can at Sharm el-Sheikh airport. After the Sinai crash, there was widespread criticism of Egyptian airline security, with stories emerging of staff failing to enforce basic security procedures, and accepting bribes.
Several countries cancelled all flights to the Red Sea resort in Sharm following the crash, and sent teams of experts to investigate Egyptian airport security.
Al Arabiya reported on Sunday that in recent weeks German and Swiss delegations have inspected Egypt's Hurghada Airport, covering arrival and departure halls, metal detectors, and x-ray machines. Russian teams have also conducted inspections, reported Russian media.
In December 2015, the Egyptian government hired the London based consultancy Control Risks Group to conduct a full security review at Egyptian airports, starting with Cairo and Sharm el-Sheikh. A spokeswoman for the group told IBTimes UK that the review was due to be completed on 28 April.
"The review is to assist the Egyptian Government by providing recommendations for improvements at these airports with the aim of ensuring that they meet international best practice and governance standards, said spokeswoman Georgina Parkes, adding that the company would not disclose details of the review while it was underway.
Reporting from Alexandra, CNN's Ian Lee said additional security had been put in place: "Travelling through that airport myself, there are layers, levels of security you have to go through before you are able to get to your plane," he said. "There's multiple times where they scan your luggage."
Dr Sajjan Gohel, a counter-terrorism analyst and international security director for the Asia-Pacific Foundation think tank, however, told Sky News that after extra security measures were introduced in the wake of the Sinai crash, security may have "gone back to the usual way."
The international inspections have been criticised by some politicians in the country, who argue that they undermine faith in the country's own government security apparatus and point out the recommendations are non-binding. Others though have argued that the inspections are vital for restoring faith in Egyptian security following the Sinai crash, which has cost Egypt millions in lost tourism revenue.
Though it is still unconfirmed that the hijacker of Tuesday's flight was wearing a suicide belt, the incident is likely to raise further questions about the safety of air travel in Egypt.