A Muslim man in India has reportedly celebrated Eid al-Adha this year by cutting a cake with a goat drawn on it instead of sacrificing a real animal. Syed Hasan Kauser from the northern state of Uttar Pradesh said he wanted to spread a message against the killing of animals during religious festivals.
A real estate agent by profession, Kauser is thought to have approached a baker to make a 25 kg goat-shaped cake. But the baker, who is also a Muslim, was initially hesitant and agreed to deliver only a 5 kg cake with a goat drawn on it.
The baker reportedly feared receiving criticism from religious leaders as Kuser was part of the Muslim Rashtriya Manch (MRM) an outfit supported by the Rashtriya Swayamsevak Sangh (RSS) – the spiritual mentor of the ruling Bharatiya Janata Party (BJP) in India.
"They delivered a 5 kg normal cake with a picture of a goat on it. The cake was not what we had asked for but at least we made a beginning. They thought it was a sin but then is animal sacrifice justified?" Hindustan Times reported Raees Khan, MRM's convener, as saying.
The newspaper called Kauser's act "novel" and it was dubbed as cake "qurbaani", which means sacrifice. However, it is said to have faced backlash from the clerics who called the practice invalid and "illegal" in Islam.
Eid al-Adha or Bakrid is one of the biggest religious Muslim festivals celebrated across the world. The day is translated as "festival of sacrifice" and Muslims sacrifice cows, lambs, goats or other animals. In India, goats are generally offered for sacrifice.
"Islam teaches brotherhood and compassion. I fail to understand why people are opposing our 'bloodless sacrifice'. Some cite religion as the reason but then by that logic one should offer one's most prized asset as 'qurbaani'. That doesn't happen," a Muslim man, who witnessed Kauser's "goat-cake sacrifice" told the Indian newspaper.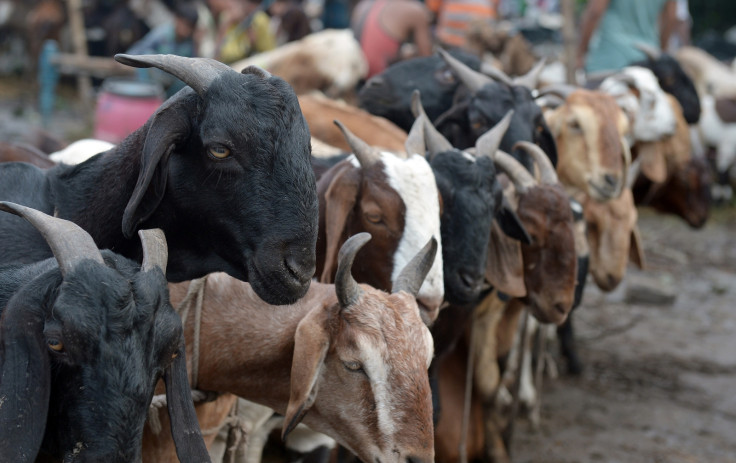 Kauser's action has come at a when the Indian government has been debating about sacrificing animals during religious festivals. Cow slaughter is already banned in some parts of the country, which has triggered widespread criticism as those suspected of eating beef were reported to have been harassed, assaulted or even lynched by mobs.
"The Bakr-Eid festival spreads a message of humanity. We can sacrifice our children, too, for Allah but it is not right to kill a goat without any reason and eat its meat," co-convener of MRM, Hasan Kausar, told The Indian Express.