Muslims around the world are celebrating Eid al-Adha, to commemorate the willingness of the prophet Ibrahim — or Abraham as he is known in the Bible — to sacrifice his son in accordance with God's will, though in the end God provided him with a sheep to sacrifice instead. The name of the holiday can be translated as "festival of the sacrifice". On the first day of Eid al-Adha, Muslims slaughter sheep, cattle and other livestock, and give part of the meat to the poor.
In this gallery, IBTimes UK looks at how Eid al-Adha is celebrated around the world, from trying to get home on one of Bangladesh's overcrowded trains, to selecting a sheep, goat or camel, to getting it home and sacrificing it.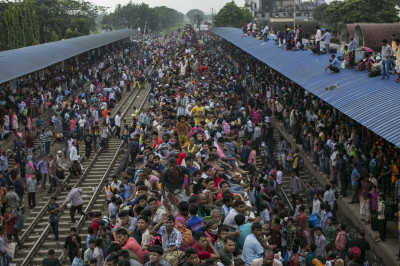 Eid al-Adha coincides with the last days of the hajj in Mecca. Pilgrims make their way to a massive multi-storey complex in Mina after dawn to cast pebbles at three large columns symbolising the devil. Muslims believe it is here that the devil tried to talk the Prophet Ibrahim out of submitting to God's will.
Mina is also where more than 2,400 people were killed two years ago in a stampede and a collision of two crowds. The Saudi government has since widened some roads in Mina to try and improve the safety of the hajj. More than 100,000 security forces are managing the hajj this year, with 30,000 health workers on hand to maintain safety and provide first aid.