Thousands of ethnic Rohingya Muslims have fled towards Bangladesh to escape mounting violence in Myanmar's Rakhine state. An estimated 8,000-9,000 Rohingya have entered Bangladesh in the past five days, with an unknown number stranded in no man's land or hiding in mountainous or forested areas. But they now face attempts by the Bangladesh authorities to send them home, despite a United Nations plea that they be allowed to seek shelter.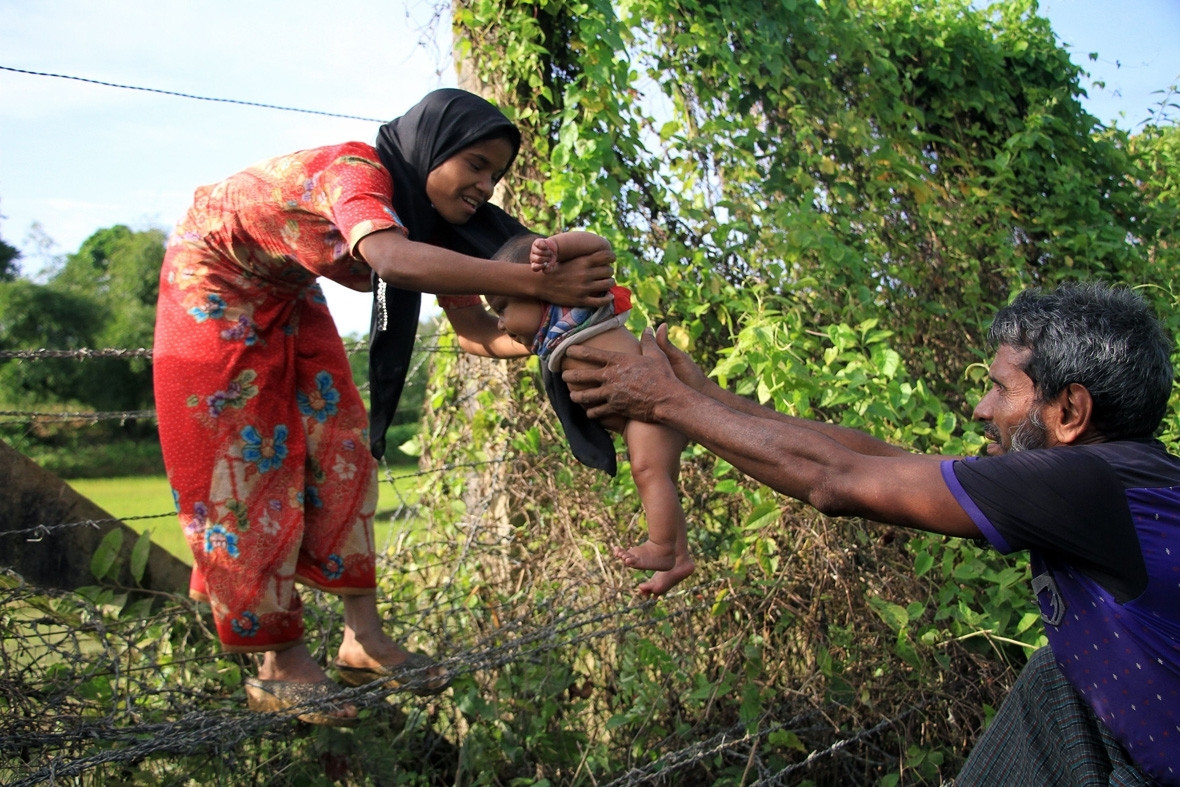 On Thursday (24 August) a Rohingya insurgent group wielding sticks, knives and crude bombs carried out coordinated attacks on more than 25 Myanmar police posts and an army base. An Islamist insurgent group, the Arakan Rohingya Salvation Army, or ARSA, took responsibility for the attacks, saying they were in defence of Rohingya communities.
Human rights groups and advocates for the Rohingya say the army retaliated by burning down villages and shooting civilians. The government blames Rohingya insurgents for the violence, including the arson. The official death toll in the violence is 104, but the actual number is likely to be higher.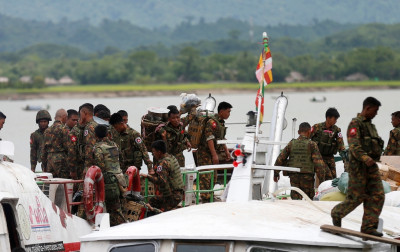 An army source in Rakhine told Reuters that troops were hunting down insurgents across the region and clearing landmines. The army source said the militants had produced a large number of landmines and were ambushing troops before quickly vanishing into the forests and mountains.
Bangladesh is already host to more than 400,000 Rohingya refugees who have fled Buddhist-majority Myanmar since the early 1990s. Dhaka has asked the UN to pressure Myanmar over its treatment of the Muslim minority, insisting it cannot accept any more.
Several thousand Rohingya are stranded in the no man's land between the two countries on a narrow strip between the Naf river and Myanmar's border fence. "We came here out of fear for our lives, but we can't cross. So we don't know what to do," Aung Myaing, from Taung Bro Let Way village, told Reuters. When asked about insurgents he said: "We didn't see them, we have no relation to them. But Myanmar doesn't distinguish between the terrorists and civilians. They are hunting all the Rohingya."
About 1,000 Rohingya forced their way into Bangladesh on Monday (28 August) after coming under fire from Myanmar soldiers. The Muslim villagers had been in a border no man's land for two days. Bangladeshi border guards, who had provided them with food and water, tried to push them back to Myanmar. A Bangladeshi local government representative, Jahangir Aziz, said that when Myanmar troops fired their guns, the crowd ran back and broke through a Bangladesh barricade and cordon of 300-400 guards. He said they then scattered, with at least some making it to unofficial camps for unregistered refugees.
Men in the Kutapalong makeshift camp on the Bangladesh side of the border told Reuters that many of the Muslim villages near the border were empty, and that troops and ethnic Rakhine Buddhists had set fire to homes. Satellite imagery analysed by New York-based Human Rights Watch showed widespread burnings in at least 10 areas in northern Rakhine since the coordinated attacks.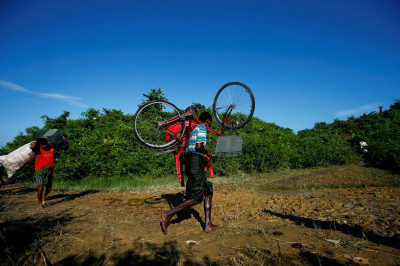 Bangladesh border guards told Reuters they had sent about 550 Rohingya back across the Naf river that separates the two countries since Monday, despite an appeal by UN Secretary-General Antonio Guterres for Dhaka to allow Rohingya to seek safety. Border patrols have been blocking people from crossing the frontier.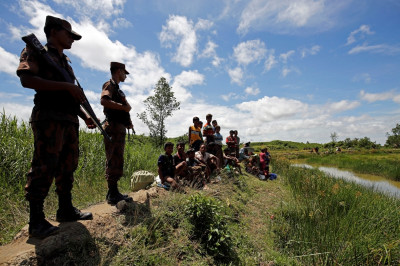 The Myanmar government is evacuating thousands of ethnic Rakhine Buddhists from the area, where they are a minority, to larger towns, police stations and army bases. Most of the violence since last week seems to be directed at Rohingya villages, but Rakhine Buddhists, feeling unsafe after the upsurge in fighting, are moving south to the state's capital, Sittwe, where Buddhists are a majority and have greater security.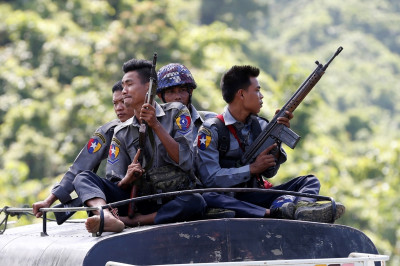 The UN and international aid groups have also evacuated all "non-critical" staff out of the area after a government minister alleged that employees of international aid groups have assisted the insurgents. Speaking to foreign diplomats, Home Affairs Minister General Kyaw Swe said government agents had found that some staff members of aid groups were linked to the insurgents. He also charged that materials imported by some NGOs, such as iron pipes and fertiliser, have been used by insurgents to make bombs. He offered no evidence to support the charges.
The government issued a statement accusing unnamed international aid group staff of assisting one attack, and circulated a photo showing energy biscuits donated by the UN World Food Programme that it said were discovered in July at an insurgent camp. The photo was widely reposted on social media as alleged proof of complicity with the insurgents.
The treatment of about 1.1 million Muslim Rohingya in mainly Buddhist Myanmar has emerged as the biggest challenge for national leader Aung San Suu Kyi. She has condemned the attacks on police stations and commended the security forces for their handling of the crisis. The Nobel peace laureate has been accused by some Western critics of not speaking out on behalf of the long-persecuted minority.
The UN says the Rohingya are one of the most persecuted groups in the world. Neither Bangladesh nor Myanmar recognises them as citizens. In Myanmar, even the name Rohingya is taboo. Officials refer to the group as "Bengalis" and insist they are illegal immigrants from Bangladesh, even though most have lived in the country for generations.