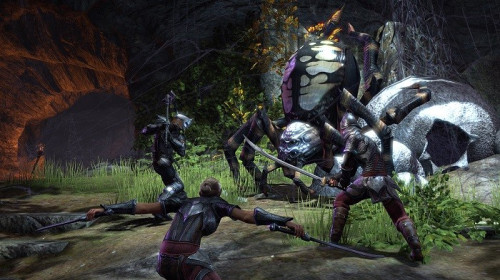 The PlayStation 4 version of The Elder Scrolls Online will not require players to own a PS Plus subscription, but you will need an Xbox Live Gold account to play on Xbox One.
Game Informer sought clarification over the issue after a PlayStation blog in which developers ZeniMax Online Studios revealed that all PS4 players will be able to play the anticipated RPG, but did not mention whether the same would be the case on Xbox One.
A representative told Game Informer definitively that "Xbox One users will need an Xbox Gold subscription."
The original PlayStation blog saw ZeniMax's Matt Frior answer questions from fans regarding the game, including one about online subscriptions.
"A PlayStation Plus membership is not required to play The Elder Scrolls Online. PS4 players will only be required to pay the same monthly subscription associated with The Elder Scrolls Online that PC and Mac users will pay — nothing more."
UK gamers will have to pay £8.99 a month to play the massively popular multiplayer online game.
Console MMOs have never really taken off, but Bethesda's best-selling IP has a good chance of being the first to truly succeed and with Microsoft's stubbornness on full display, it appears Sony may be the ones to capitalise most.
The game will also be released (and released first) on PC and Mac this April – with the console versions expected later in the year.