The Tories claim Ed Miliband will "stab the UK in the back" to become Prime Minister by abandoning Britain's nuclear weapons in order to form a partnership with the SNP.
Defence secretary Michal Fallon launched a personal attack on the Labour leader ahead of promising the Conservatives will build four Successor Ballistic Missile Submarines as part Britain's Trident programme.
Fallon claims the Labour party will use the possible scrapping of the at-sea nuclear deterrent as a "bargaining chip" with Nicola Sturgeon's party in order to form a coalition government, should there be a hung parliament following 7 May's election.
Labour described Fallon's attack as proof of an "increasingly desperate" campaign from the Tories, adding the party has already expressed their support in renewing the ageing fleet, which ensures Britain has at least one nuclear-armed sub on patrol.
Fallon also attack Miliband personally over his "betrayal" of his brother David Miliband, the former foreign secretary.
He wrote in the Times: "Ed Miliband stabbed his own brother in the back to become Labour leader. Now he is willing to stab the United Kingdom in the back to become Prime Minister."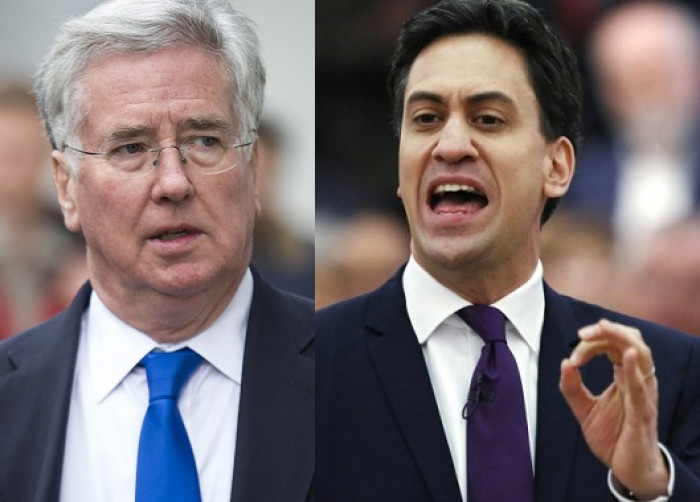 Fallon has promised the Conservatives will build four ballistic missile submarines to replace the Vanguard fleet from 2028, if they are elected.
Labour said they are committed to keeping Trident, but are looking into options to reduce the number of vessels to three.
The SNP have frequently rejected plans to renew Trident, with Sturgeon describing the issue as a "red line".
Fallon said: "As each day passes, it becomes clearer that Ed Miliband will do anything to get there. Day after day, interview after interview, he refuses to rule out categorically, once and for all, doing any deal with the SNP," the defence secretary writes.
"Nicola Sturgeon could not be clearer. She has told Ed Miliband that scrapping Trident — our country's vital nuclear deterrent — is a red line she will not cross. If he wants the keys to No 10, he must abandon any plans to renew our current Vanguard ballistic missile submarines."
He added: "Our nuclear submarines protect all of Britain including Scotland. This SNP policy is a threat to us all that would dangerously weaken our collective defence."
Labour's Shadow Defence Secretary Vernon Coaker said Miliband has made "crystal clear" that national security is not up for negotiation.
He added: "We support renewal of Trident along with a renewed focus on multilateral disarmament," and said "Labour is committed to maintaining a minimum, credible, independent nuclear deterrent, delivered through a continuous at-sea deterrent. This is not up for negotiation with any party."
"The Tories are resorting to the language of smear. They are increasingly desperate as their campaign lurches on in confusion and chaos."