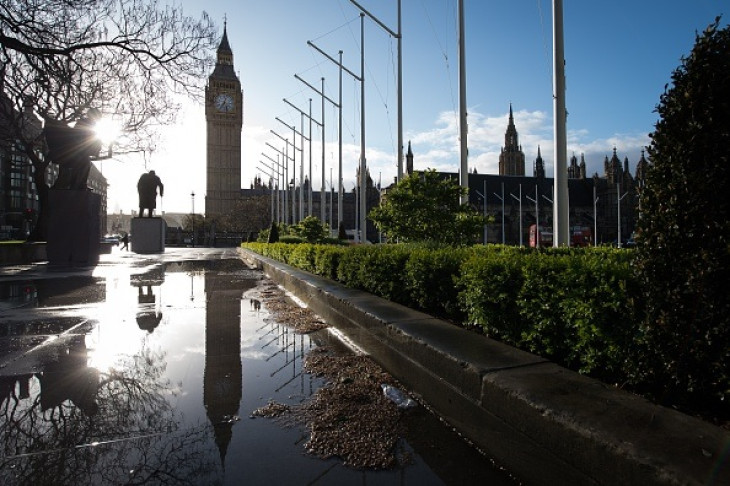 Westminster is the thriving hub of British politics.
Walk past the Houses of Parliament on most days and you'll likely spot an MP or two making the short walk from the Palace of Westminster to one of parliament's other enclaves in either Portcullis House or ministerial offices elsewhere.
But after Parliament was dissolved for the so-called "short campaign" to begin, and as Britons today cast their votes in the general election, the only voices heard in Westminster this morning were those of decided voters and bewildered tourists.
"Westminster is always busy. With its landmarks it's obviously very popular with tourists. But for the past month or so some of that 'buzz' has disappeared," 62-year-old City banker and Conservative David Faircross said.
"I haven't seen Ed Balls for weeks, which might not be a bad thing."
Opposite the Houses of Parliament is College Green where broadcasters from around the world have erected tents and towers for their anchors and guests to make sense of tomorrow's outcome.
But although the media has followed the campaign every step of the way, some voters think the news has been over-saturated with candidates' photo ops and sound bites.
"It [the campaign] does drag on a bit and you do hear the same things," said Claire Marks, 28, a Labour voter living in Streatham, south London.
"I suppose on one hand it means people are more likely to vote: they can't forget there's an election. But on the other hand, it has become boring."
Reports this week suggested it might not be Tory welfare cuts, Labour borrowing or Liberal Democrat personal tax allowance that would affect voters' intentions, but the weather.
The Mirror reported studies have shown that bad weather deters Labour voters more than the Tories if it rains.
Under typically British cloud cover, 30-year-old PR consultant Michael Land, of Greenwich, east London, despaired at the notion Cameron was up late on Wednesday conducting a rain dance.
"If people blame the weather then there is no hope really, is there? I believe if people want to vote, they will go out and do it come rain or shine."
One person who was oblivious to the election was German tourist Joseph Brose. Standing outside Whitehall, where in the event of a hung parliament prospective ministers are expected to meet on Friday, the 53-year-old said: "I cannot see signs there is an election. In Germany, everyone votes. But people in England are not voting, they are working."
IBTimes UK will be covering the general election live today and tomorrow as the results and commentary come in. Make sure to follow our dedicated politics Twitter account (@IBTUKPolitics) as Britain decides.