Elephant Poaching: Tanzania's Ivory 'Smuggled to China in President Xi Jinping's Plane'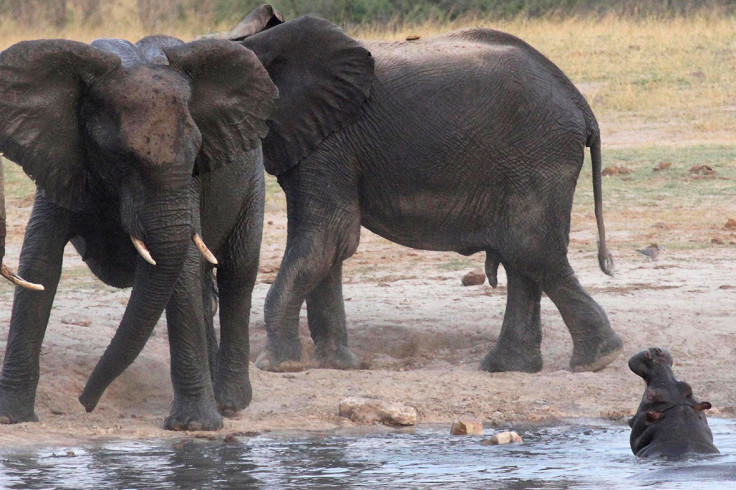 The rapid decrease of Tanzania's elephants due to illegal poaching has been linked to corrupt Chinese nationals.
According to a new report by London-based Environmental Investigation Agency (EIA), the poaching crisis in Tanzania is due "to a toxic mix of criminal syndicates, often led by Chinese nationals, and corruption among some Tanzanian government officials."
In its new report, Vanishing Point: Criminality, Corruption and the Devastation of Tanzania's Elephants, EIA documented the cases of Chinese and Vietnamese people arrested after being caught trying smuggling ivory tusks into their countries.
In one instance, EIA's undercover investigators were informed that two weeks before China's President Xi Jinping's visit to Tanzania in 2013, Chinese buyers bought "thousands of kilos of ivory, later sent to China in diplomatic bags on the presidential plane."
In another case, three Chinese were arrested after authorities discovered a haul of 706 ivory tusks in a house in Tanzania's largest city Dar es Salaam. Investigations led to the discovery that Chinese and Tanzanians were engaging in the import of garlic and citric acid from China and the export of seafood from Tanzania.
However, EIA claims the trade was just a cover business to hide ivory smuggling and explain the delivery and collection of cargo.
In the same year, the port of Dar es Salaam received an official visit from a Chinese naval task force which involved a series of activities between naval officers and personnel from the two countries, including "cultural exchanges". However, the visit also prompted a surge in business for Dar es Salaam-based ivory traders.
At least 13,000 elephants were killed for their tusks in Tanzania in 2013, the report said.
Tanzania's ivory is smuggled to China often through routes that cross the Middle East, South Asia an East Asia.
Hong Kong is one of the major transit points for illegal shipments of ivory. Between 2009 and 2014, Hong Kong authorities seized at least 18 tonnes of ivory.
According to campaigners, 35,000 elephants and 1,000 rhinos are killed each year in ivory and rhino horn poaching.
The NGO Global March for Elephant and Rhinos, which organises marches worldwide to raise awareness on the poaching issue, says a rhino is slaughtered every 9-11 hours for its horn, while an elephant every 14 minutes for its tusks. At this rate, the two animals will be extinct by 2034.
© Copyright IBTimes 2023. All rights reserved.