Elizabeth Warren slams Donald Trump in first campaign appearance with Hillary Clinton
The liberal senator called Trump a 'thin-skinned bully driven by insecurity and hate.'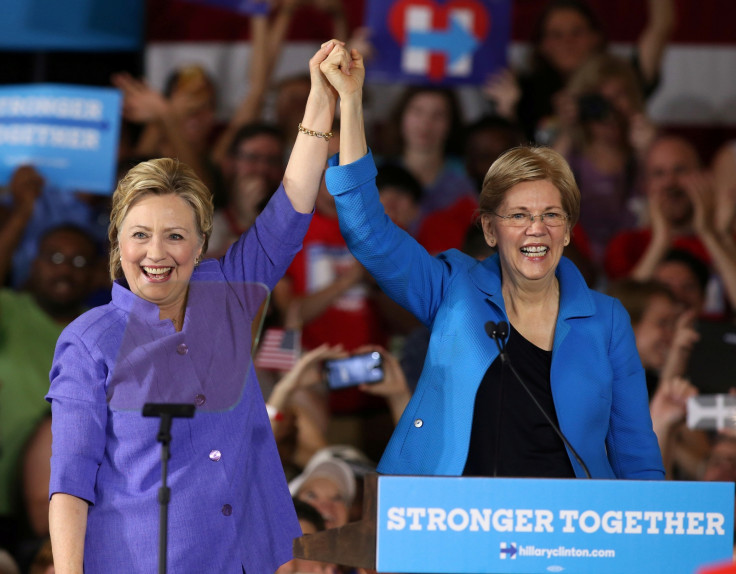 Massachusetts Senator Elizabeth Warren launched a fierce attack on presumptive Republican nominee Donald Trump on Sunday 27 June, during her first joint campaign appearance with presumptive Democratic candidate Hillary Clinton in Cincinnati, Ohio. Warren, who is rumoured to be on Clinton's list of potential running mates, called Trump an "insecure money grubber" who is motivated by hate and greed.
Warren slammed Trump as a "thin-skinned bully driven by insecurity and hate" who thinks of no one but himself. "When Donald says he'll make America great, he means greater for rich guys just like Donald Trump," Warren said, while "he'll crush you into the dirt."
When Clinton traded places at the microphone, she did not deliver any attacks but laughingly congratulated her for the jabs. "I do just love to see how she gets under Donald Trump's thin skin," Clinton said, according to The Washington Post.
The senator and former secretary of state proved to be a powerful duo that could give the bombastic real estate mogul a run for his money. NBC News noted that while she is on Clinton's VP shortlist, Warren also demonstrated she could be an important asset in Clinton's campaign whatever role she's given.
"Hillary has brains, she has guts, she has thick skin and steady hands. But most of all, she has a good heart. And that's what America needs. And that's why I'm with her," Warren proclaimed according to NBC News, as she led the crowd in chants of "Hill-a-ry! Hill-a-ry!"
Clinton hopes to use Warren's support to woo in liberal supporters of rival Democratic candidate and self-proclaimed democratic socialist Bernie Sanders, Reuters reported. Warren was late in throwing her support behind Clinton, waiting until she had earned enough delegates to secure the Democratic nomination.
In response to the verbal onslaught, Trump released a statement calling Warren "a sellout" for supporting Clinton. Trump then called NBC News to repeatedly refer to Warren as a "racist" for allegedly distorting her Native American heritage. "We call her Pocahontas for a reason."
Trump has continued to slide in general election polls against Clinton. An ABC News/Washington Post poll released 24 June found Clinton ahead by double digits, 51% to 39%. She was up by five points in separate polls by NBC News/Wall Street Journal and Rasmussen Reports. The candidates are set to become official nominees in July during their respective party conventions.
© Copyright IBTimes 2023. All rights reserved.