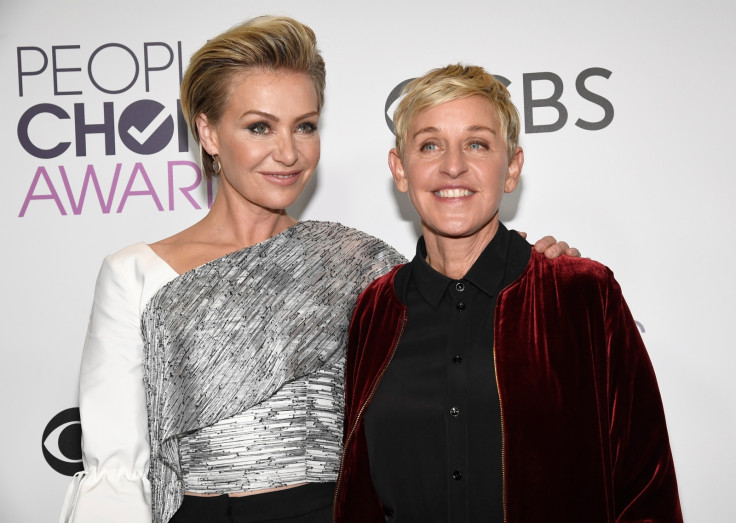 Ellen DeGeneres and Portia de Rossi have been battling divorce rumours for years but instead of giving a straight forward answer, they chose to dismiss those subtly. On Wednesday, 21 June, the Hollywood couple were spotted packing on the PDAs during their date out.
The talk show host and her wife of eight years kissed as they were spotted shopping at a vintage shop. The former Scandal actress kept her clothing casual and simple with a navy blue and red stripped T-shirt and a pair of shorts, while her famous wife opted for a printed white shirt, casual pants and a pair of sneakers.
Over a period of time, the same-sex couple battled rumours about their multi-million dollar divorce. Radar Online recently claimed that the comedian is trying to save her marriage by splurging on her wife. "Ellen is trying everything she can to keep Portia from running. She has been buying her elaborate gifts and recently splurged on this huge vacation to the South Pacific for just the two of them, but Portia did not want to go," an alleged source told the website.
De Rossi, who has launched her art venture named General Public, was reportedly worried about her wife's drinking habit and according to the gossip website, the 59-year-old comedian has reduced it. "Ellen has always been a drinker, but she does not drink on set or when she is working. That does not seem to be their problem right now."
However, contrary to the website's speculations, the couple's social media post tells a different story. Recently, Ellen gushed about her wife. "I am so proud of my wife" she captioned an image she posted on Instagram in which she was seen relaxing with the Australian actress in the lounge of Portia's new office.