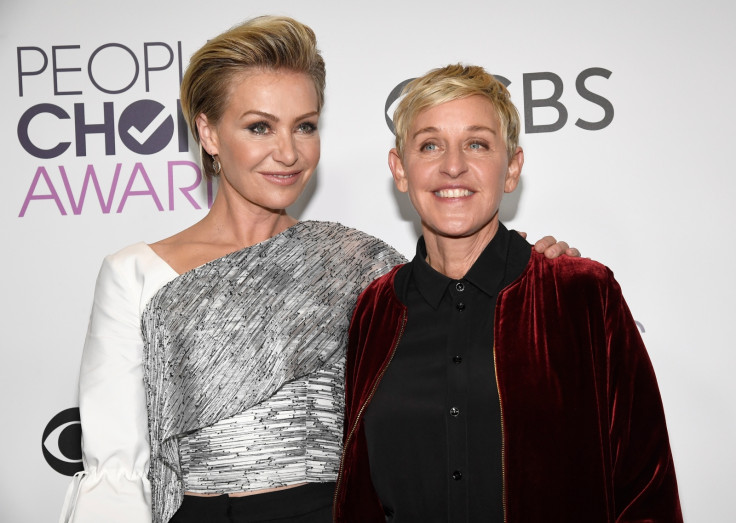 Ellen DeGeneres was recently pictured without her wedding ring in an image posted on Portia de Rossi's Instagram account. The post has sparked rumours that the couple might be parting their ways.
The Australian actress recently shared a series of images of her wife DeGeneres, in which she appears immersed in work for her upcoming Netflix project.
Taking a cue from the image sharing website and few paparazzi pictures of DeGeneres, In Touch weekly claims that the comedienne and her wife are headed for a split. The gossip website quoted an anonymous source who claims: "It's happening. She and Portia are breaking up. Portia's ring has been off for a while now, and though she would occasionally slip it on to show Ellen she was trying, that's over now... There's no turning back. It's just a matter of time before the whole world knows."
The website has also reported that couple is fighting because of the stand-up comedian's controlling behaviour. "Bottom line, Portia feels Ellen didn't let her be herself or develop her acting career more. She said she needs to break free or she's going to snap."
Contrary to the claims in media, the couple seems very much in love as the 59-year-old talk show host has been promoting de Rossi's latest venture in art — General Public. The former Scandal actress has previously confessed that the field of art is more exciting for her than acting projects.
In May, de Rossi was pictured without her wedding ring at a restaurant, sparking speculation of rift between her and DeGeneres. The couple closely guard their private life and occasionally post adorable posts on social media declaring their love for each other. DeGeneres recently gushed about her wife's latest art venture and said that she is "proud of her".